Description
Premium 6D Chrome Case
Premium 6D Chrome case Fashionable and lightweight mobile phone case, with the characteristics of light and thin, stylish, beautiful, easy to carry, with 3D shinning colors and graphics, adding a seamless style, easy to install, and protect your mobile phone from Scratch. The dual-material structure can engross shocks and with stand drops, and the inclined beveled edges guarantee the Scratch safety of the touch screen.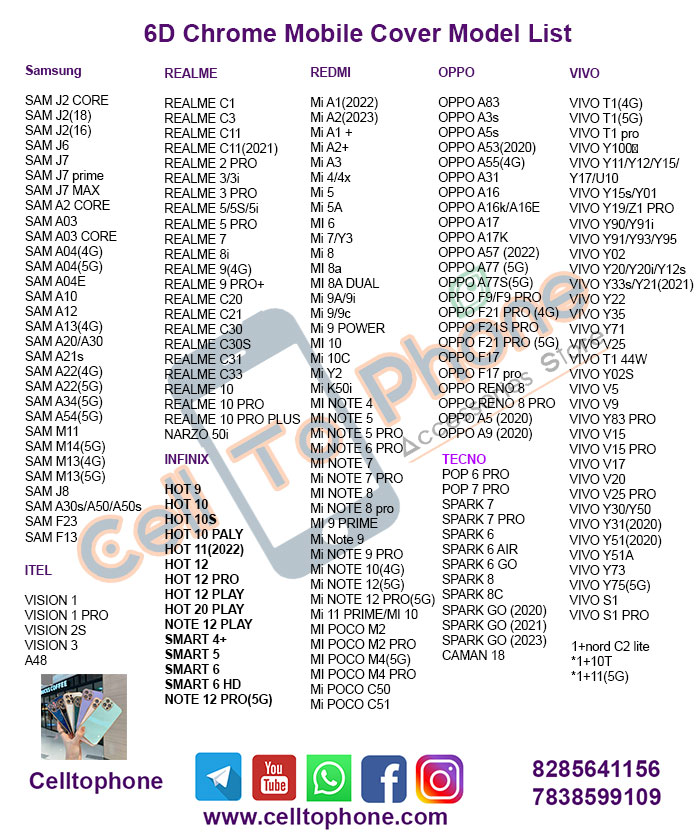 Perfectly protect your phone from impact, scratches, abrasion, dirt, oil, and other damage: high-quality protective cover, complete protection. Use high-quality, durable materials for cute girls and all kinds of people. A high-quality soft TPU cover provides comprehensive protection. The beautifully designed patterns will with assurance satisfy you. 
 Compatibility: please check your cell phone model earlier buying. 

 Electroplating Bumper Design: Use electroplating edge technology. Frame edges also add color layering to the phone case, creation it more classy. 

 High-quality Materials: Flexible and soft TPU rubber bumper edges (rose gold) using electroplating technology; it does not diminish. Soft, comfortable touch feeling, deliver extreme drop safety and is Scratch resistant. 

 The raised edge is 0.5mm higher than the screen and camera, which can significantly protect the screen and camera from accidental drops and scratches. 

 Precise Cutouts Access: The cutouts are flawlessly designed to ensure stress-free access to all buttons, suit for cutouts like speakers, cameras, charging, volume, and other ports, without take out the case, and are stress-free to install and remove.