Description
Z-BLACK SHINE TPU Mobile Cover
Slip this glossy TPU case for Mobile Phones into your pocket, and leave the house without worrying about accidental bumps and scratches. Flexible TPU material wraps around your device, providing maximum protection for its delicate curves yet still allowing unhindered use of all essential ports and functions.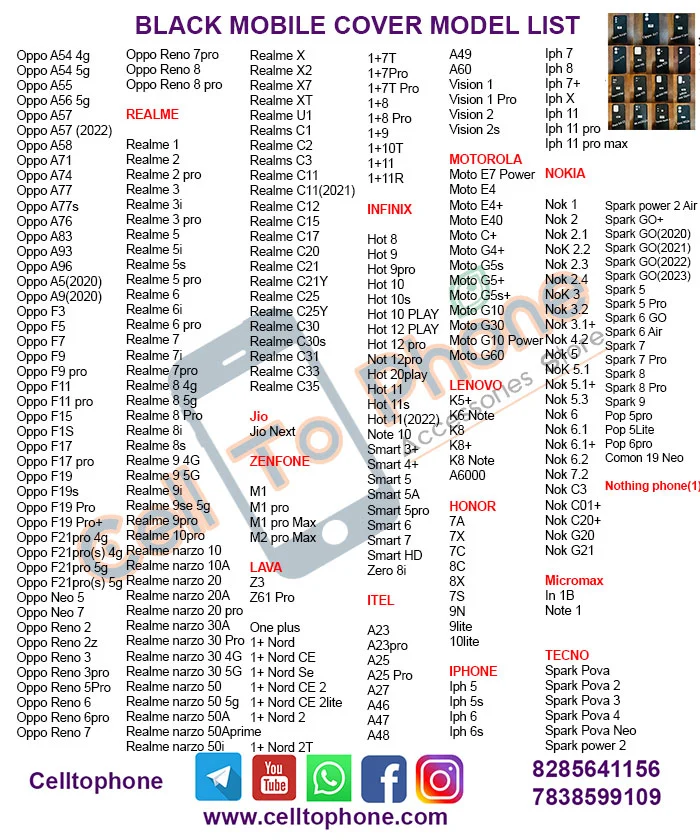 Glossy TPU gel cover to keep your Phone snug and safe
Shock-absorbing TPU material provides exceptional drop protection
The glossy finish allows the cover to slide easily into the pocket
Slim and lightweight, feels comfortable in the hand
The volume buttons are covered with custom-moulded overlays
Grants full access to all important ports of your Mobile
Material: TPU (thermoplastic Polyurethane)
Why let scratches and chips ruin your beautiful when you can give it the protection it deserves with this glossy TPU case
Sleek and Protective: Black Soft Mobile Covers for Minimalist Style
For those who prefer a sleek and minimalist look for their smartphones, soft black mobile covers offer a perfect balance of style and protection. These covers combine a minimalist design with a soft and flexible material, providing a slim profile while keeping your device safe from scratches and minor impacts. In this article, we will explore the appeal of black soft mobile covers, their features, and why they have become popular among individuals seeking a minimalistic and understated aesthetic.
Minimalist Design:
Black soft mobile covers feature a simple and clean design that adds a touch of sophistication to your device. The sleek black colour provides a timeless and versatile look that complements any smartphone, regardless of its brand or model. With its understated appeal, a soft black cover enhances the overall aesthetic without overpowering the device's original design.
Soft and Flexible Material:
These mobile covers are made from soft, flexible materials such as silicone or TPU (thermoplastic polyurethane). The soft texture offers a comfortable grip and a smooth, pleasant touch. The material's flexibility allows for easy installation and cover removal, ensuring convenience without compromising protection.
Slim Profile:
Black soft mobile covers are designed to be slim and lightweight, adding minimal bulk to your device. They provide a snug fit, hugging the contours of your smartphone closely. The slim profile allows easy handling and pocketing, ensuring the cover doesn't interfere with the device's portability and usability.
Protection against Scratches and Minor Impacts:
While offering a minimalist look, soft black mobile covers provide practical protection for your device. The soft, shock-absorbent material helps cushion your smartphone against scratches, scuffs, and minor impacts. It acts as a barrier, safeguarding the back and sides of your device from everyday wear and tear.
Precise Cutouts and Access:
Black soft mobile covers are designed with precise cutouts for the camera, buttons, ports, and speakers, ensuring seamless access to your device's essential features. You can quickly charge your phone, use headphones, adjust the volume, and capture photos without removing the cover.
Compatibility and Availability:
Black soft mobile covers are available for many smartphone models, including popular brands like iPhone, Samsung, and Google Pixel. Whether you own the latest flagship model or an older generation device, you can find a compatible black soft cover that fits perfectly and offers the desired level of protection.
Conclusion:
Black soft mobile covers combine minimalist style and practicality to provide your smartphone with an elegant, understated protection solution. With their clean design, soft and flexible materials, and precise cutouts, these covers offer a comfortable grip, easy access to device features, and reliable defence against scratches and minor impacts. Embrace the minimalist aesthetic and enjoy the simplicity and elegance of a soft black mobile cover while keeping your device safe and stylish.