Description
Apple Iphone 15 Series Mobile Camera Ring Lens
Camera Lens Defender for Apple iPhone 9H Rigidity HD Tempered camera Protector Glass, Lens Protector high Definition Anti-Scratch full coverage digital camera metal Ring designed for Apple iPhone, Camera Lens.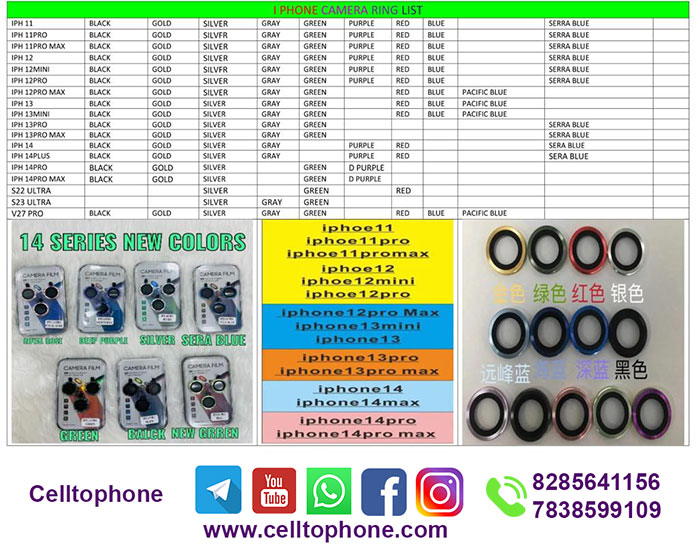 Superior Tempered Glass Screen Defender is modern in state-of-the-art Lens protection technology. Extremely long-lasting and scratch resistant/chip resistant, this durable 9H (hardness level) defender will assure your cell phone the best defense against falls, bumps, abrasions, and normal wear and tear.
Get all the protection without any bulk – Tempered Glass Screen Protectors are a mere thin making them ultra-light weight to allow for a 'delicate touch style screen protector that cannot affect the sensitivity of your touch screen. Genuine Tempered Glass Made of real tempered glass that defends the original screen from smashing, with an industry-leading toughness of 9H, just below diamond with a toughness of 10H.
Provides super high definition clarity. Rounded Edge is Designed to provide a smooth and naked device screen experience and improved chip resistance. Oleophobic Coating Avoids too much fingerprinting and oil stains and makes the film stress-free to clean. Silicone Bubble-free Adhesive Adheres to the phone's screen without any gaps or Air bubbles, leaving the touch sensitivity unpretentious.
Anti-shatter Film Made to defend your phone – if it does disrupt, the tempered glass breaks into tiny pieces that stick together, making it safer for handlers. [Product Features] – 9H screen hardness – Curved Edges for Comfort – Great clarity and Responsiveness – Easy putting in place – Original screen brightness.
Well-matched for Apple iPhone Ring Type Camera Lens Defender Does Not affect Flash Accurate Hole Place.
This 9H Toughness Tempered Glass Screen Guard with a 2.5D arc design defends the Raised camera Lens from unwanted scuffs and scratches by knives, keys, and other complex materials.
99% Clear Protection gives you a high-definition, Protective film with design holes. The hole design does not disturb the flash. The clear lens doesn't wedge the flash when taking photographs or videos, ensuring original high resolution.
HD Clearness with 100% transparency and oleophobic anti-smudge varnish maintain your device's unique HD viewing experience and high-sensitivity touch response.
SIMPLY INSTALLATION- Used of Bubble-Free adhesive; after bending the base plate and taking off from the plate, it Can be Automatic adsorption to the camera lens, easy to apply with no threat of air bubbles.