Description
TPU Silicon chrome cover
This Cover is made specifically for your phone because it will help protect against scratches and other damage. It perfectly fits the shape, is Long Lasting, Premium, and Best Quality; it protects you from dust, scratching, and shock; it protects your valuable investment from scratches and damage. Specializes in bringing the most famous cases and accessories for cell phones and tablets at the lowest price.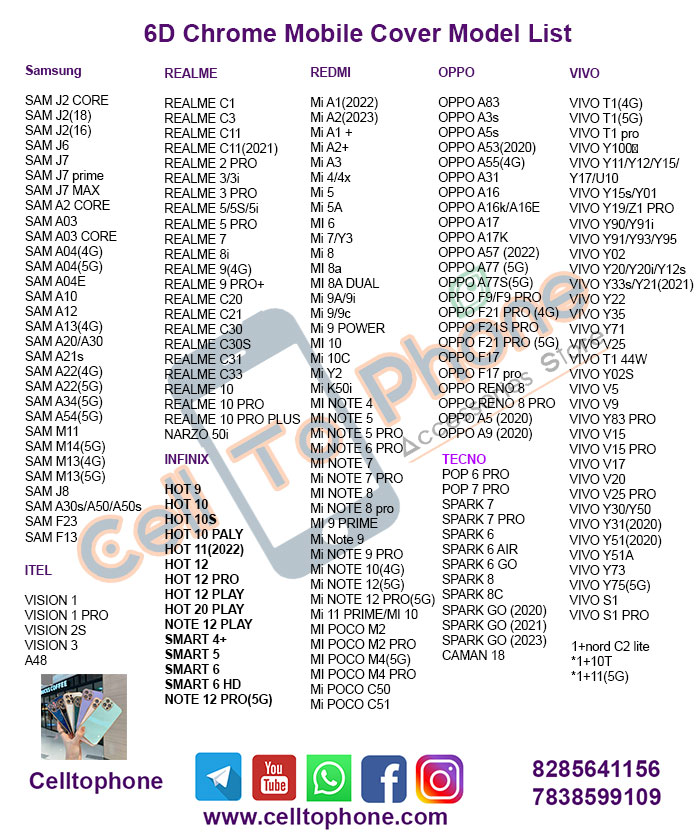 This lavish Chrome Case ultra-thin fit silicone TPU shock resistance defensive back. It is a super protective case since it has raised edges to protect the screen from scratches. Slim and form-fitted design, the case quickly covers your phone, ultimately providing superior impact resistance in an extremely slim profile. Feather Light's sleek design provides easy and comfortable handling without the additional weight and bulk of other traditional cases.
It's exclusive air cushion technology and shockproof curves make your phone impact resistant from all angles on a fall. This Back Cover is designed in an endless classic business style, alike the personality of both men and women.
 Compatibility: This case is well-matched with iPhones and Android Phones. Please check your mobile model previously bought.
 Electroplating Bumper Design: Use electroplating edge technology. Frame edges also add colour layering to the phone case, making it more stylish.
 First-class Materials: Flexible and soft TPU rubber bumper ends using electroplating technology; it does not diminish. Soft, comfortable touch feeling, provide extreme drop protection and is scratch-resistant.
 The raised edge is 0.5mm higher than the screen and camera, which can protect the iPhone's screen and camera from accidental drops and scratches.
 Precise Cutouts Access: The cutouts like speakers, cameras, charging, volume, and other ports, without removing the case, are easy to install and remove.
Stunning Product!
Electroplated Case for Your iPhone.
Unique Design with SQUARE ELECTROPLATED GOLDEN FRAME! It gives your iPhone a Classy & Stunning Look; the edges of The Case Are Raised From the Front to Prevent The Phone's Screen From Unwanted Scratches or Dents.
With Camera Protection!
It comes With an External Camera Protection Bump, Which Prevents the Phone's Camera Lens from Scratches or Any Major Damage; this Feature Adds A Full Protection Package for Your iPhone!
Exclusively For iPhone Series!
Electroplated Cases with Camera Protection are Made for iPhones, With Premium Quality, Precise Cutting & Finishing of All Ports & Buttons!
Product Description
Premium Electroplated Cases for iPhone Series with Camera Protection, Which Looks Extremely Premium & Its Shockproof Prevents Your Phone's Display From Scratches, Camera Protection which Prevents Camera Lens From Scratches. Also, it provides a Superb Look to Your Phone!