Description
PC+TPU UV PRINTED CASE
Premium quality and great value go hand in hand. Every Celltophone product is carefully built to deliver exceptional quality. Celltophone stylish case cover protects your phone from scratches and dents with this back cover. Cool smooth finish feeling in hands. Easy to install and remove from your mobile with hands. It's equipped with a comfortable sense of touch and an elegant appearance. The rigidity is good enough not to transfer and break off easily. Open mould according to real mobile phones with precise function holes. Right from the materials used, to detailed quality checks, to thoughtful improvements, quality is at the core of everything we do.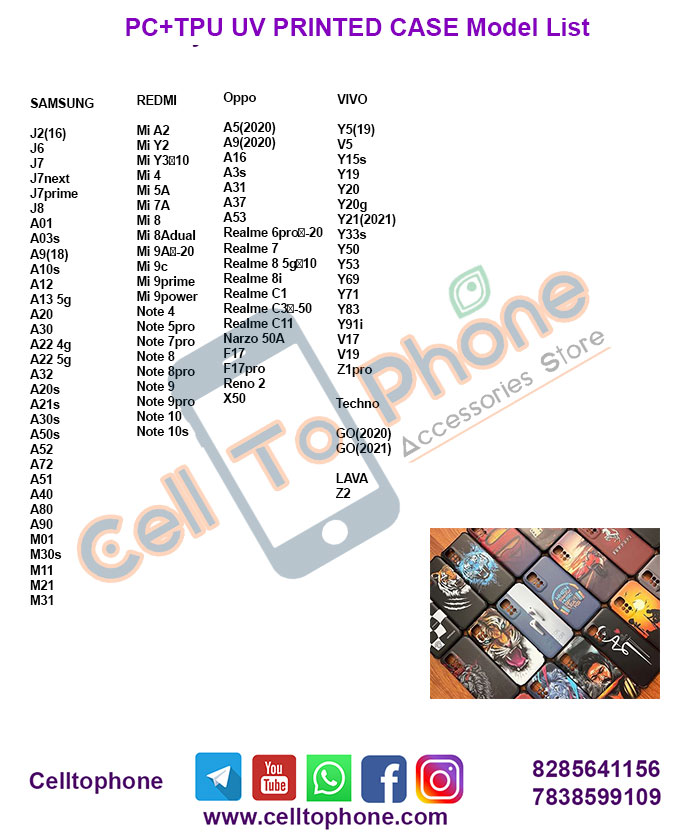 PC+TPU UV PRINTED CASE
A PC+TPU UV printed case is a protective case for a smartphone or other electronic device made from a combination of polycarbonate (PC) and thermoplastic polyurethane (TPU) materials. The case features UV printing technology for customization and design.
PC+TPU Material: The case is constructed using a combination of PC and TPU materials. PC is a durable and rigid material known for its impact resistance, while TPU is a flexible and shock-absorbent material that provides additional protection against drops and impacts. Combining these materials offers a balance of strength and flexibility, ensuring comprehensive protection for the device.
UV Printing: The case is decorated using UV printing technology. UV printing allows vibrant, high-resolution designs and patterns to be directly printed onto the case surface. This method ensures long-lasting, scratch-resistant prints that won't fade quickly.
By combining the benefits of PC and TPU materials, the case provides a sturdy and protective layer for your device, guarding it against scratches, bumps, and drops. UV printing allows for customization and personalization, allowing you to choose unique designs or patterns that suit your style or preferences.
It's important to note that the availability of PC+TPU UV printed cases may vary depending on the specific device model, and customization options may also vary depending on the manufacturer or retailer offering the product.
We invest our resources only in what is important to you and minimize costs like packaging, advertising, and other extras that don't add value. This helps us keep our costs low and create products that deliver more value for your price. Expect a little more every time you buy a Celltophone product. Celltophone in a one-stop store for the latest and trending mobile accessories. You can find any mobile case cover in our store having the best design made up of the highest quality material, which protects your phone to a large extent, this solid back cover looks attractive. This cover will give you an excellent grip.