Description
Original UV Printed Back Cover
Premium quality and great value go hand in hand. Every Celltophone product is carefully built to deliver exceptional quality. Celltophone stylish case cover protects your phone from scratches and dents with this back cover. Cool smooth finish feeling in hands. Easy to install and remove from your mobile with hands. It's equipped with a comfortable sense of touch and an elegant appearance. The rigidity is good enough not to transfer and break off easily.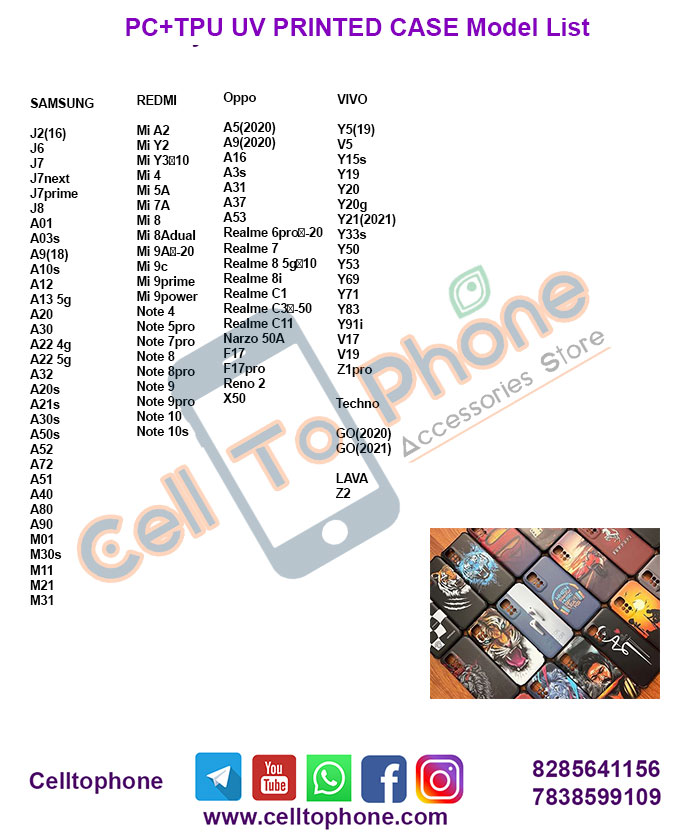 Expect a little more every time you buy a Celltophone product—celltophone in a one-stop store for the latest and trending mobile accessories. You can find any mobile case cover in our store having the best design made up of the highest quality material, which protects your phone to a large extent; this solid back cover looks attractive. This cover will give you an excellent grip.
Personalization has become an integral part of our daily lives, and what better way to express our individuality than through our electronic devices? Original UV-printed back covers offer a unique opportunity to showcase creativity and style while protecting your cherished smartphone. This article will explore the world of original UV-printed back covers, their benefits, and why they have become popular among tech-savvy individuals seeking a personalized touch.
Customized Design Options:
With original UV-printed back covers, the possibilities are endless. These covers allow you to personalize your smartphone by choosing from various designs, patterns, and colours, and even incorporating your artwork or photographs. UV printing technology can bring your vision to life whether you prefer vibrant abstract designs, elegant floral motifs, or even a custom design that represents your hobbies or interests.
High-Quality and Durable:
Original UV-printed back covers are aesthetically pleasing and built to last. The printing process utilizes UV-curable ink, which bonds with the body's surface, creating a durable and scratch-resistant layer. This ensures the design remains vibrant and intact, even with everyday use and minor bumps or scrapes.
Slim and Lightweight:
One of the advantages of original UV-printed back covers is that they maintain the sleek profile of your smartphone. These covers are designed to be slim and lightweight, adding minimal bulk to your device. You can enjoy the personalized design without compromising the portability and comfort of your smartphone.
Enhanced Grip and Protection:
In addition to their visual appeal, original UV-printed back covers provide practical benefits. The textured surface of these covers offers an improved grip, reducing the chances of accidental slips and drops. Moreover, they provide additional protection against scratches, scuffs, and minor impacts, safeguarding your smartphone from everyday hazards.
Easy Installation and Removal:
Original UV-printed back covers are designed for hassle-free installation and removal. They are precisely cut to fit your smartphone model, ensuring a perfect fit and easy access to ports, buttons, and other functionalities. You can swap out covers to match your mood or change the design whenever you desire, giving your device a fresh and personalized look.
Versatility and Compatibility:
Original UV-printed back covers are available for many smartphone models, including popular brands such as Apple, Samsung, and Huawei. No matter which device you own, you can find a compatible UV-printed back cover to suit your style and preferences.
Conclusion:
Original UV-printed back covers offer a remarkable way to personalize and protect your smartphone. From showcasing your artistic side to expressing your unique personality, these covers allow you to make a statement stylishly and practically. With their high-quality materials, durability, and easy customization options, UV-printed back covers are the perfect choice for those seeking a touch of individuality in a tech-savvy world. Unleash your creativity and give your smartphone a personalized makeover with an original UV-printed back cover.