Description
Super-D Tempered Glass

Super-D Tempered Glass Premium GLASS Protectors are the latest in state-of-the-art screen protection technology. Highly durable and scratch resistant/chip resistant, this strong 9H (hardness level) protector will provide your cell phone with the best protection against drops, bumps, scratches and normal wear and tear.
Get all the protection without any bulk –  Glass protectors are a mere .33mm thin making them ultra-light weight to allow for a 'delicate touch' style screen protector that promises not to interfere with the sensitivity of your touchscreen. To top it all off the GLASS protectors are designed to be 99.99% transparent to promote an optimal, natural, crystal clear viewing experience.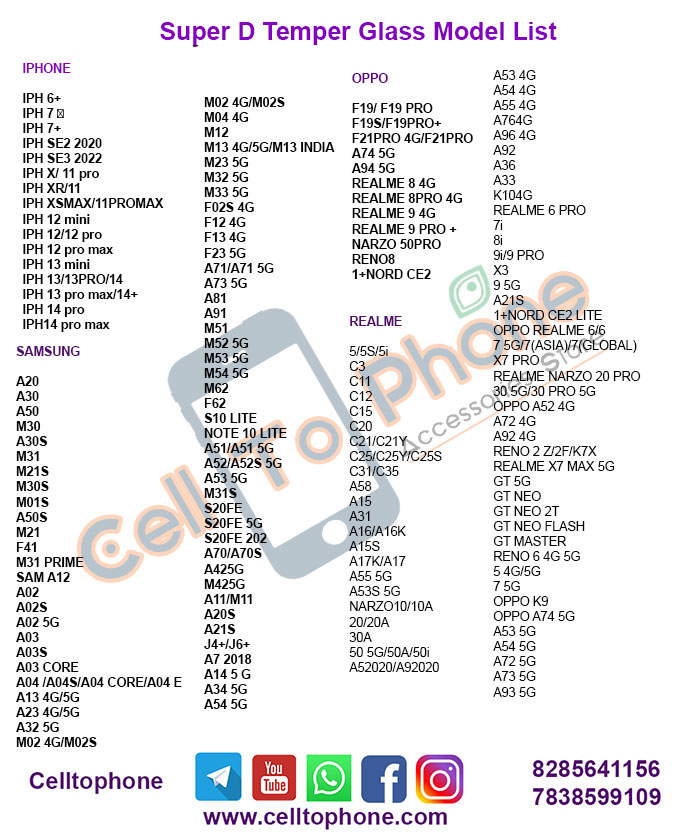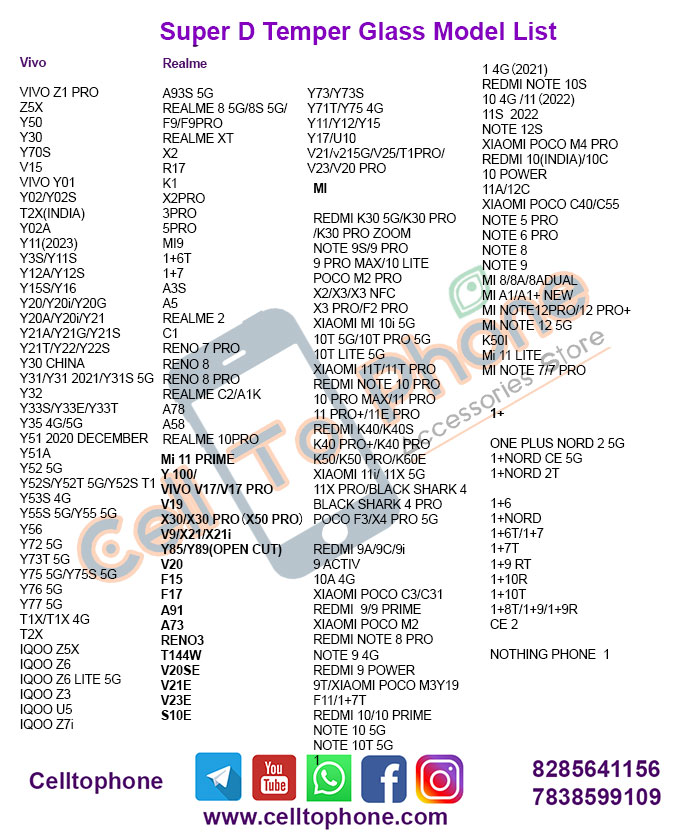 A 0.33mm mobile tempered glass refers to a type of screen protector specifically designed for mobile devices, such as smartphones and tablets. Here's what you need to know about it:
Thickness: The "0.33mm" measurement indicates the thickness of the tempered glass screen protector. It is a common thickness for mobile device screen protectors and strikes a balance between providing sufficient protection and maintaining touchscreen sensitivity.
Tempered Glass: The screen protector is made of tempered glass, which is a type of glass that has been treated with thermal or chemical processes to increase its strength and resistance to impact. Tempered glass is known for its ability to withstand scratches, impacts, and minor drops, protecting the underlying screen of the mobile device.
Protection: The 0.33mm mobile tempered glass screen protector provides a layer of protection against scratches, smudges, and minor impacts on the device's screen. It acts as a barrier to help prevent damage to the original screen and can be easily replaced if the screen protector gets damaged.
Touch Sensitivity: Despite its thickness, a 0.33mm tempered glass screen protector is designed to maintain the touchscreen's responsiveness and sensitivity. It should not significantly impede the touch functionality of the device.
When purchasing a 0.33mm mobile tempered glass screen protector, ensure that it is compatible with your specific mobile device model and consider factors such as the quality of the tempered glass, its installation process, and any additional features like oleophobic coating (to resist fingerprint smudges).