Description
The Privacy Tempered Glass 9H hardness (high-grade glass) and the oleophobic coating prevent most scratches, smudges, and fingerprints, making this the best-tempered glass for your smartphone.
Privacy Tempered Glass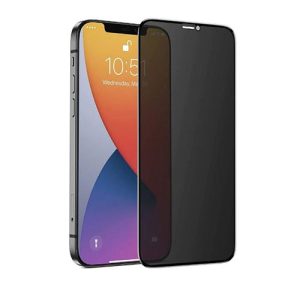 The Premium Tempered processed protection offers a strong defence against outer blemishes and scratches, specifically those caused by cutting devices like knives and keys.
And for a flawless fit, it is laser cut. Because superior tempered glass is manufactured of Japanese Asahi glass and has a smudge-proof coating and round edge, you will be able to see your screen clearly without having to be concerned about bubbles or dirt getting in the way.
[ANTI SPY] This privacy screen protector is designed for iPhone & Android Mobile Phones; great for the elevator, bus, metro or other public occasions; it blocks views from the left and right side and protects your privacy from people nearby.

[EDGE TO EDGE FULL COVERAGE]

The edges of this privacy screen are made of carbon fibre compatible with iPhone as well as Android Mobile phone Models, never crack and effectively defends your phone's screen from breaking, but not completely fit some cases friendly, which edges cover the phone's screen.

[TOUCH SENSITIVE] This privacy screen, featuring high touch sensitivity and anti-fingerprint, won't affect your Face ID recognition

[EASY TO INSTALL] Bubble-Free adhesive makes the privacy screen easy to install, removing dust first, then aligning it properly position. You can remove and reinstall the screen protector during the installation process.

[Worry-free] If you have any issues with this privacy screen protector, feel free to contact us directly through Whatsapp message, a satisfying solution is promised.