Description
Silicone Earbud Tips
Introduction:
Enhance your listening experience with Silicone Earbud Tips. These soft silicone rubber tips are designed to provide exceptional comfort, secure fit, and improved noise isolation, fully immersing yourself in your favourite music or audio content.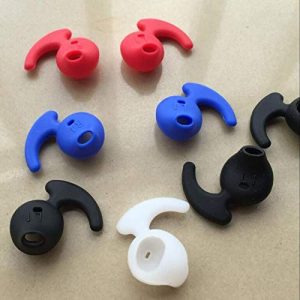 Comfortable and Secure Fit:
The Silicone Earbud Tips are made from high quality, ultra-soft silicone rubber material. They are designed to conform to the shape of your ear canal, ensuring a comfortable and secure fit. With their ergonomic design, these earbud tips provide a snug seal that helps prevent sound leakage and unwanted external noise, allowing you to enjoy your music without distractions.
Enhanced Noise Isolation:
These earbud tips provide excellent noise isolation thanks to their premium silicone rubber construction. They create a barrier between your ears and the surrounding environment, reducing background noise and enhancing your audio experience. Whether you're in a noisy office, commuting, or working out at the gym, the Silicone Earbud Tips will help you enjoy clear and immersive sound.
Universal Compatibility:
The Silicone Earbud Tips are compatible with a wide range of earphones and headphones, making them a versatile choice for any audio device. Whether you have wired earphones, wireless earbuds, or over-ear headphones, these tips can be easily attached and provide a perfect fit. They come in multiple sizes to accommodate different ear canal sizes, ensuring optimal comfort and performance for everyone.
Easy to Install and Replace:
Installing the Silicone Earbud Tips is quick and hassle-free. Remove your old ear tips and slide these new ones onto the earphone's nozzle. The flexible and stretchable nature of the silicone material ensures a secure fit. You can easily replace them whenever necessary to maintain hygiene or adapt to different users.
Package Contents:
Each package of Silicone Earbud Tips includes 3 pairs of black ear tips, providing ample replacements or allowing you to share them with friends and family. These durable and long-lasting tips are designed to withstand regular use and provide consistent performance.
Conclusion:
Upgrade your earphones or headphones with the Silicone Earbud Tips for enhanced comfort, secure fit, and improved noise isolation. These soft silicone rubber tips are the perfect accessory for any music lover or audio enthusiast. Experience the immersive sound and enjoy your favourite content with these high-quality earbud tips.
Please note that this is a general product description and may not accurately reflect the specific features or details of the product you mentioned. It's always recommended to refer to the product listing or manufacturer's website for the most accurate and up-to-date information.