Description
MATTE TEMPER GLASS I ACCURATE TOUCH SENSITIVITY I SUPPORT 3D TOUCH
Our Premium Screen Protectors protect your device screen against impact, scratches, dust and fingerprint smudges. Manufactured from high-quality chemically treated glass and Nano Fiber, the screen protectors are lightweight, thin, but most importantly, extremely protective.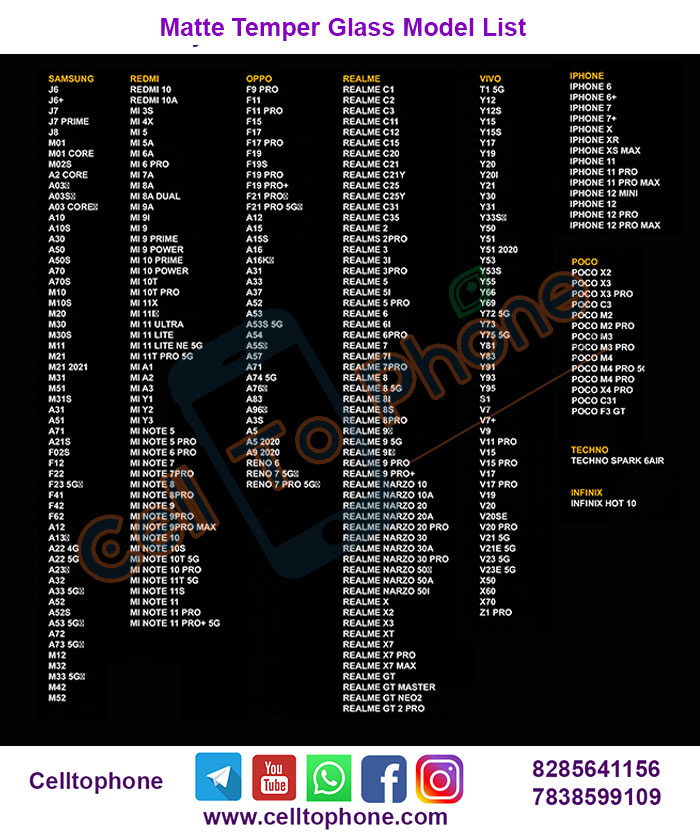 "Matte tempered glass" refers to a type of screen protector for electronic devices that has a matte or anti-glare finish. Here's what you need to know about it:
Material: Matte tempered glass screen protectors are made from tempered glass, which is a toughened material that provides durability and protection against scratches, impacts, and minor drops. Tempered glass is known for its hardness and ability to withstand daily wear and tear.
Matte Finish: The key feature of a matte tempered glass screen protector is its anti-glare or matte finish. This finish helps to reduce glare and reflections on the screen, making it easier to view the device's display under bright lighting conditions or when exposed to direct sunlight. It provides a smoother surface compared to the glossy or glossy tempered glass protectors.
Anti-Fingerprint: Matte tempered glass screen protectors often have an additional anti-fingerprint coating. This coating helps to resist fingerprint smudges and smears on the screen, keeping it clean and free from unwanted marks.
Touch Sensitivity: While matte tempered glass screen protectors provide anti-glare benefits, they can slightly affect the touch sensitivity compared to regular clear tempered glass protectors. However, advancements in manufacturing techniques have improved touch sensitivity on many matte tempered glass protectors, ensuring a smooth and responsive touch experience.
Privacy Option: Some matte tempered glass screen protectors also offer privacy features. These protectors have a built-in privacy filter that narrows the viewing angles, making it difficult for others to see the screen's contents from side angles. This adds a layer of privacy protection for your device.
When purchasing a matte tempered glass screen protector, ensure it is compatible with your device model. Consider factors such as the quality of the tempered glass, the level of anti-glare properties, and the touch sensitivity to choose the suitable protector for your needs.