Description
8D Colorful Mirror Tempered Glass
8D Full Glue Mirror Glass: Tempered Glass 9H glass With Full Glue Screen Protector. It is the best tempered glass screen protector using for protection of mobile screen. It provides 100% transparency which in turn provides flawless clarity sensitivity & smoothness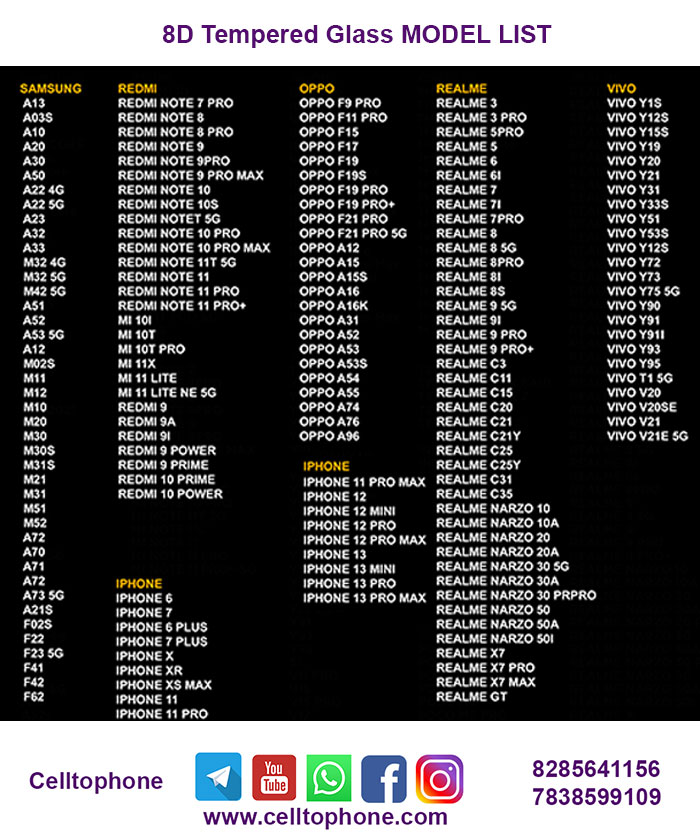 DELICATE TOUCH tempered glass (please check in our image), make better smoothly touch-feeling and more sensitive for operation.
8D ANTI-SCRATCH tempered glass having 9H hardness can effectively protect your device screen from scratches. 9H surface Hardness 3 times harden then PET screen protector.
EASY INSTALLATION it's super easy to install the Tempered screen protector.
ULTRA-CLEAR & TOUCH SENSITIVITY tempered glass has 100% transparency for clear screen view while high touch sensitivity ensures smooth operation.
OLEOPHOBIC COATING has an oleophobic full glue coating that prevents contaminants and makes the film easy to clean.
"8D Colorful Mirror Tempered Glass" seems to be a product that combines several features. Let's break it down:
Tempered Glass: Tempered glass is a type of safety glass treated with heat or chemicals to increase its strength compared to regular glass. It is commonly used for smartphone screen protectors because it provides impact resistance and protects the device's display from scratches.
Colorful: The term "colorful" suggests that tempered glass has a vibrant or multi-colored appearance. It implies that the glass may have a reflective or iridescent coating that produces different hues or shades depending on the angle of view or lighting conditions.
8D: The meaning of "8D" in this context is unclear, as it doesn't correspond to a standard industry term or specification for mobile accessories. It could be a marketing term used by a specific manufacturer to highlight a unique selling point or feature of their product.
Given the information provided, "8D Colorful Mirror Tempered Glass" appears to be a smartphone screen protector made of tempered glass with a reflective or iridescent coating that produces vibrant colors or hues. To get more specific information about this product, I recommend searching online or contacting the manufacturer or retailer offering it.