Description
Full Body Logo Cut Membrane
Full Body Logo Cut Membrane :-  Unbreakable and anti-smudge coating maintain your device's original viewing experience and high-sensitivity touch response. Rounded edges for flawless integration and smooth feel. It is a DIY product, no need to depend on the others. Follow the simple instructions given on the Packing.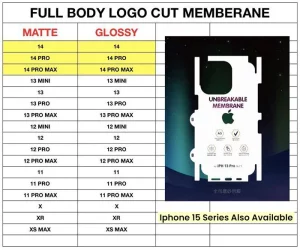 Non-Shatter: Unlike Normal Glass, these Films are Unbreakable and can't be damaged easily, making it safer and longer for the glass screen of your phone. Removable: If broken, it can be removed quickly & replaced with a new one.
FOR YOUR SMARTFONE: Engineered to be stronger than regular glass,  Edge-to-Edge Tempered Glass provides resilient, hard-wearing protection for your phone screen.
Tempered Glass screen protection provides multi-level protection. It is extensively verified to withstand deep-level damage caused by accidental drops and impacts.
GEAR UP WITH OUR PROTECTORS: Proven in testing to have a hardness rating of 9H, it's the highest level of scratch protection available.
EXPERIENCE THE BEST: Glass composition means your finger glides effortlessly over the screen guard, just like it does over your device screen. The super-thin 0.33mm glass preserves touchscreen sensitivity to respond exactly to your touch. It offers grip during gaming and enhances performance.
ENRICHED VISUAL EXPERIENCE: We test our screen protectors to the highest optometric standards. Designed and engineered from high-quality, durable Celltophone Protectors tend to deliver the brightness, sharpness and detail you expect from your phone screen.