Description
Cherry Case Soft Silicon With Oil Free
Find the ideal Mobile Cover that reflects your style and personality! Right now, shop at Celltophone! With our many Latest and rough Versatile Covers for Ladies, you can find the ideal portable cover that mirrors your character and style. To match any outfit or mood, choose from a variety of colors and designs. Our Mobile Covers for Women are the best option if you want to express yourself or keep your phone safe.
CHOICE MODELS – Mobile Back Cover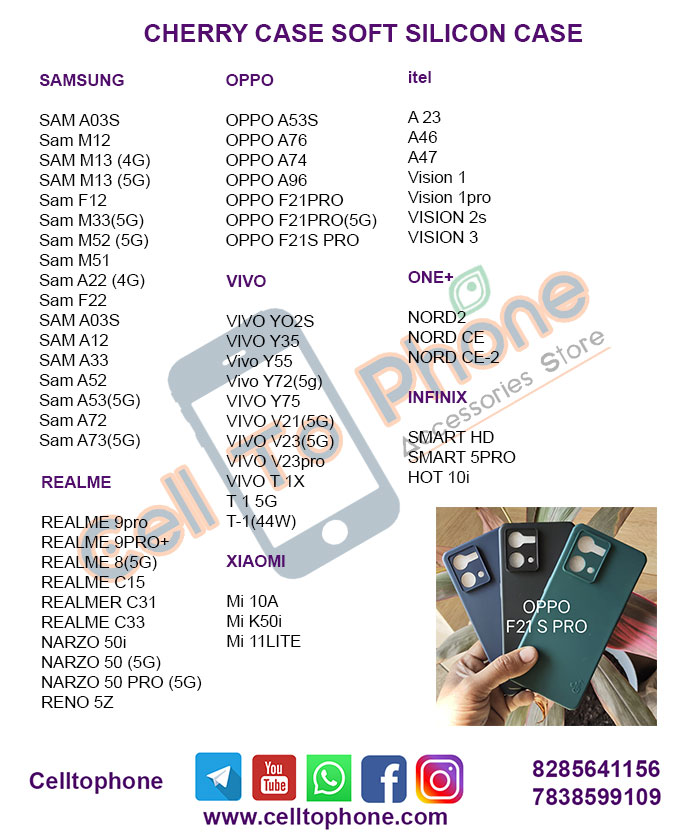 Soft silicone mobile covers are protective cases made from a flexible silicone material. These covers are designed to fit specific mobile phone models and provide cushioned protection against scratches, bumps, and minor drops. Soft silicone covers are known for their slim profile, lightweight design, and smooth texture, which makes them comfortable to hold and easy to grip. They also offer a certain level of shock absorption to help safeguard the phone's body and screen.
Silicone covers are popular because they offer several advantages:
Protection: Soft silicone covers provide a barrier against daily wear and tear, protecting your mobile phone from scratches, scuffs, and minor impacts.
Grip and Comfort: The soft and smooth texture of silicone covers enhances grip and makes it easier to hold your phone securely. It also adds a layer of comfort when using your device for extended periods.
Slim Profile: Silicone covers are typically thin and lightweight, preserving the slim profile of your mobile phone without adding much bulk or weight.
Easy Access: These covers are designed with precise cutouts and button covers, allowing easy access to all ports, buttons, and features of your mobile phone, including the camera, speakers, charging port, and headphone jack.
Variety of Colors and Designs: Silicone covers come in various colours and designs, allowing you to personalize your phone and match your style.
When purchasing a soft silicone mobile cover, select the correct model and size for your mobile phone. This will ensure a perfect fit and optimal protection.