Description
Self Adhesive Thumb Wall Hooks for Hanging
Lovely thumb-up shape. Perfect for room decorations. This wall-mounted hook is designed to hold our items, widely used on various smooth surfaces such as wood, tile, ceramic, and metal and made of high-quality silicone, sturdy and durable. Hooks are an excellent solution for creating additional storage space.. Using the cable clips adhesive cable organizer to fix the pen, headphones line, USB cable, computer line, mobile phone charger cable, etc.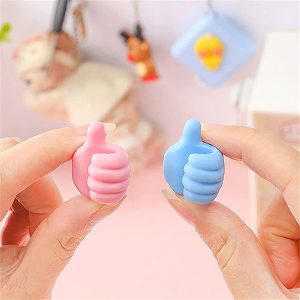 Multifunctional Thumb Hook
Living Room:- Thumb hooks can free you from the clutter of wires, cables, headphones, etc., around your TV, shoe cabinet, coffee table, and more.
Office:-Using thumb hooks in the office is a brilliant option to keep your desk tidy while increasing productivity and creating a clean and unburdened work environment.
Bathroom:- These hooks are made of silicone, waterproof, anti-corrosion and rust, and resist daily scratches to ensure you can use them in the wet condition, including the shower.
Kitchen:- Cooking is not easy; if your kitchenware is messy, it will be awful, and the thumb hook will make your cooking process fun and happy.
Easy Installation HIGH VISCOSITY & DOES NOT HURT THE WALL
The thumb hook utilizes a clear nano-gel adhesive that has high viscosity and adhesion. It is reusable and washable.

No punching required. Easy to tear without damaging walls and leaves no residue. Results in a flush wall.
Our product features easy-to-use peel and stick technology that won't cause any damage to your walls or surfaces.
Before installing, ensure the wall is free of dust and water stains and completely dry.

This product is appropriate for use on tiles, glass, metal, wood surfaces, and more.

One can remove it easily by heating it with a hairdryer for 20 seconds and then taking it down.

3.Wait 6 hours before use to get the best performance.
SMALL SIZE
This small thumb hook is versatile and space-saving.
While bringing you neatness, it also creates a beautiful landscape for your home, encouraging you and praising you daily.
The Best Place to Install
Tile

Marble

Board

Cortex

Metal