Description
Photography LED lighting panels with remote control capabilities have become increasingly popular among photographers and videographers. These lighting panels offer adjustable brightness, colour temperature, and other features to enhance lighting quality in various shooting conditions. Remote control allows photographers to conveniently adjust the settings without interacting with the Panel.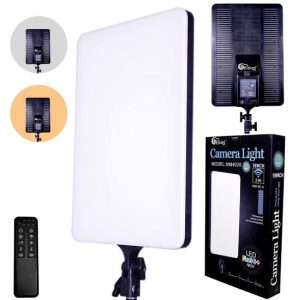 Here's a general overview of how a photography LED lighting panel with remote control works:
Camera Light Features
LED Lighting Panel: The lighting panel consists of an array of LED bulbs that emit light. These bulbs are typically arranged in a grid pattern to distribute uniform light.

Remote Control: The remote control is a separate device communicating wirelessly with the lighting panel. It allows you to adjust various settings remotely, such as brightness, colour temperature, and even special effects like strobe or fade.

Wireless Communication: The remote control and the lighting panel use a wireless communication protocol, such as Bluetooth or radio frequency (RF), to exchange commands and information. The specific wireless technology used may vary depending on the manufacturer and model.

Settings Adjustment: Using the remote control, you can change the brightness level of the LED lighting panel. This feature is handy when the lighting panel is positioned in a hard-to-reach place or mounted on a tripod. The remote control may also provide options to adjust the colour temperature of the light emitted by the LEDs, allowing you to achieve different lighting effects.

Additional Features: Some photography LED lighting panels with remote control may offer different features, such as the ability to create custom lighting presets, simulate natural lighting conditions, or synchronize multiple panels for a multi-light setup.
It's worth noting that the specific functionalities and capabilities of a photography LED lighting panel with remote control can vary between different brands and models. When purchasing one, reviewing the product specifications and user manual is essential to understand the specific features and how to operate the remote control effectively.
Camera Light Specification
[ADJUSTABLE COLOUR TEMPERATURE AND BRIGHTNESS, CRI 95+] With the remote control, you have the ability to adjust the brightness level anywhere from 0% to 100%. and Three colours (3200K-6500K) as needed. CRI> 95 can achieve true colour reproduction and clear images. 
 [SOFT DIFFUSER SURFACE] People have a hard time with the harsh light from an LED 19-inch Panel that has a Honeycomb diffuser surface, which offers you enough brightness but doesn't harm your eyes. You can use it for your girl/baby/pets/. 
 [COMES WITH REMOTE CONTROL] Unlike the traditional video lights, now you do not have to go to the video light again and again to control the brightness because the Eloies studio light comes with a remote, so now you can maintain the brightness & modes without touching the light. Awesome. 
 [DIRECT SOCKET POWER LIGHT] This led video light works on the direct socket power, making it super-efficient. With the assurance that the battery won't drain, you can concentrate on your projects without any distractions.
 [SOFT AND UNIFORM, NO GLARE] This video light is equipped with 640 SMD lamp beads and uses an acrylic light guide plate, which can disperse the glare, make the light soft and uniform, and not hurt the eyes. Ideal for interviews, baby photography, conferences and YouTube. 
Camera Light Review
The Camera Light is a versatile lighting accessory that enhances photography and videography. It typically consists of an LED panel that attaches to a camera or can be used independently.
Camera Light FAQ
Q: What is a camera light?
A: A camera light is an accessory that provides additional illumination for photography and videography.
Q: How does a camera light work?
A: Camera lights typically use LED (Light Emitting Diode) technology to produce a continuous and adjustable light source.
Q: Can I use a camera light with any camera?
A: Camera lights are designed to be compatible with most cameras. They can be attached directly to the camera's hot shoe mount or used independently with a stand or tripod.
Q: What are the benefits of using a camera light?
A: Camera lights improve lighting conditions, especially in low-light environments. They help eliminate shadows, enhance details, and provide a more professional look to your photos and videos.
Q: Are camera lights portable?
A: Yes, camera lights are generally compact and lightweight, making them easy to carry and transport. Some models are even designed to fit in a camera bag.