Description
Type C Wired Earphones with Mic
Function – Microphone, Noise Cancelling, All with one Button.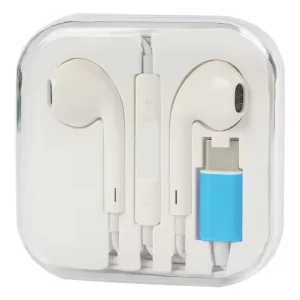 Classical earphones with excellent sound. It has in-ear soft earbuds and a high-performance speaker. Good for listening to MP3/Music, watching DVDs/movies. Compatible with portable music players with a 3.5mm jack built-in mic. Works with most Android phones and other smartphones for crystal clear quality
Experience immersive sound quality and noise reduction with these earphones, featuring precise mid-range frequencies and accurate bass. Its stylish design is both elegant and sleek.
These earphones are designed for the latest generation earphones. They are compatible with all Androids, tablets, MP3 players, and related devices. The audio signal transmission is of good quality, ensuring excellent Hi-Fi performance with fantastic sound and bass. Super bass of powerful 10 mm drivers for HD sound while the incredible extra bass lets you enjoy your favourite songs with greater clarity, making listening to music a fulfilling one.
With a total harmonic distortion of 0.3 per cent, a wide frequency range of 20 Hz to 20 KHz, speaker resistance of 16 Ohm and a sensitivity range of 98 dB +/- 3 that minimizes any distortion of sound quality, you are guaranteed a fun-filled auditory experience.
TYPE-C WIRED EARPHONES: Immerse yourself in an unparalleled audio experience thanks to the remarkable sound quality delivered by our wired earphones with Type-C connectivity. Whether you're moving or taking a moment to relax, the convenience of a Type-C connection enhances your overall enjoyment, ensuring a seamless and uninterrupted listening journey. 

 10MM BOOMX BASS DRIVERS: Unleash the power of significant 10mm bass drivers, offering an unmatched listening experience that immerses you in the magic of sound. Prepare to be captivated by deep, abundant, and resonating audio, bringing your music to life like never before. 

 INLINE CONTROLS: Effortlessly manage your music, calls, and more with easy-access buttons that are always within reach. With inline controls, you can play, pause, skip tracks, adjust volume, and even take calls without reaching your device. Enjoy uninterrupted listening pleasure, all while being in complete control. 

 COMFORT FIT: Experience unparalleled comfort tailored to you. Thoughtfully designed for a custom-fit experience that lasts all day, the X1 Pro wired earphones let you say goodbye to discomfort and hello to a secure and snug fit that stays in place, no matter your activities.