Description
Type C to C Fast Charging Cable
its compact build, this Apple USB-C Cable easily slips into bags and pouches. It is also constructed with a 2-metre length, allowing you to use your phone from an ample distance while charging.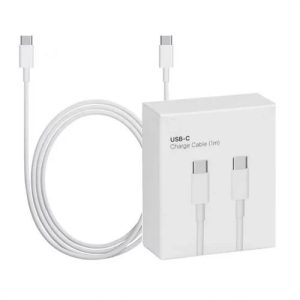 Recharge your smart device with ease thanks to the Apple USB-C Cable. Efficient and convenient, this cable can also be used to sync and transfer digital files between USB-C devices.
This Apple USB-C Cable allows you to power up your well-matched devices quickly by pairing this cord to a USB-C power adapter. The Apple USB-C Charge Cable is engineered to work well with a range of iPad and Mac models Also supports USB 2 for syncing and data transfer between USB-C devices.
Buy USB C to USB C Fast Charging Cable 1M Dual Type C Cable. Charge your device up to 44% faster with a Type C to Type C Fast Charger Cable! Get yours today, and enjoy ultra-quick charging technology.
Type C to C Fast Charging Cable – Get Up to 44% Faster Charging
Looking for a way to speedily and safely charge your USB-C devices? Look no further than the Type C to Type C Fast Charging Cable! This cable allows you to charge up to 44% faster, so you can enjoy your device and get back to work or play with newfound energy.
Product Specifications
High Quality A Grade Type C to C Cable
Interface: USB-C (male to male).
Compatible with USB-C devices, including iPad Pro 11″ and 13″ (3rd Gen).
Length: 1 meter.
Colour: White.
This 1-meter charge cable has Type C connectors on both ends. It is ideal for charging, syncing, and transferring data between Type C devices.
Pair the Type C Charge Cable with a compatible Type C power adapter to conveniently charge your devices from a wall outlet and use fast charging capabilities. USB-C Power Adapters are sold separately.