Description
Multi Charging Cable
Introducing the Retractable Car Charging Cable: Power on the Go
Are you tired of dealing with tangled charging cables in your car? Look no further!  Retractable Car Charging Cable simplifies your charging experience and keeps your devices powered. With its innovative retractable design and high-quality construction, this charging cable is the perfect companion for your car.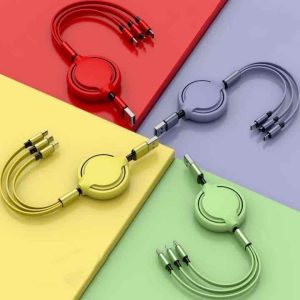 Effortless Convenience
Say goodbye to messy cables that clutter your car's interior. The Retractable Car Charging Cable features a retractable design that eliminates the hassle of tangled cords. With a simple pull, the cable extends up to 3 feet, giving you ample reach to charge your devices while keeping your car neat and organized. When you're done charging, a quick tug retracts the cable into its compact housing, ensuring it stays tangle-free until your subsequent use.
Universal Compatibility
Worried about compatibility? Don't be!  Retractable Car Charging Cable has a versatile USB-A connector on one end and a durable, tangle-free Lightning connector on the other. This means you can charge many devices, including iPhones, iPads, iPods, and other Lightning-compatible devices. This charging cable covers you whether you need to charge your smartphone, tablet, or any other device while on the road.
Built to Last
Durability is a key feature of the Retractable Car Charging Cable. It is constructed using high-quality materials, ensuring a long-lasting and reliable charging solution for your car. The robust housing protects the cable from damage, while the reinforced connectors prevent fraying and withstand everyday wear and tear. You can trust this charging cable to deliver consistent and efficient charging performance, trip after trip.
Safe and Efficient Charging
Your safety is essential; the Retractable Car Charging Cable considers that. It has multiple safety features to protect your devices from overcharging, overheating, and short circuits. The cable is also MFi-certified, meaning it meets Apple's strict standards for quality and compatibility. You can charge your Apple devices with peace of mind, knowing they are protected from potential electrical hazards.
Take Charge of Your Journey
With the Retractable Car Charging Cable, you can take charge of your journey and ensure your devices are always ready for use. Whether travelling long distances, running errands, or simply commuting to work, this cable offers a convenient and reliable charging solution for your car. Its compact size makes it easy to carry in your bag or store in your car's glove compartment, so you'll never be caught without a charging cable again.
Features
The Retractable cable comes with 3 Different pins allowing you to charge your Android, iOS and Type-C devices at the same time

This multi charger cable widely compatible with all Smartphones.

Fast Charging Cable that can be used to charge your smartphone or Tablet or Earbuds or speakers etc…

Convenient Length cable. The Car charging cable has 1.25 Meters length that is very convenient to use while you travel

3 in 1 Fast charging Cable is the best solution for your Travel needs. Just carry a single charging cable that can charge all your electronic Gadgets (Note : Not for Data Transfer)
Conclusion
Don't let tangled cables and low battery levels slow you down. Upgrade your car's charging capabilities with the Retractable Car Charging Cable. Its innovative retractable design, universal compatibility, durability, and safety features make it a must-have accessory for any driver. Say goodbye to cable clutter and hello to effortless charging on the go. Get your  Retractable Car Charging Cable today and experience the convenience and reliability it brings to your car journeys!