Description
Buy Starbucks Mirror Case Online | Upto 40% off
Metal Bumper Starbucks Mirror Back Cover Case Imported environmental Crome materials. The most recent dustless matte UV painting technology This phrase is used. On both sides, which has an elegant appearance and a pleasant touch.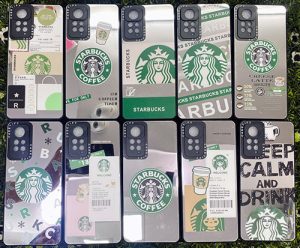 The rigidity is good enough not to break off easily. Open mould according to real mobile phones with precise function holes. You can handle it as freely as you wish. The surface uses a salient point design, wear-resistant, anti-skidding, dust-proof, anti-fingerprint, and easy to clean.
Designed to Protect Your Screen
Raise the top and bottom edges to protect your phone screen without impeding edge-to-edge swiping.
Made From High-Quality Materials
This product offers both style and protection without compromising either. Stand out with a phone case made from the best materials possible, all stylish, durable, and unique.
Extreme Drop Testing
We test our cases vigorously, far beyond what a phone case will likely go through, so you can rely on them for regular daily use.
This Back Case Cover with the latest high-intensity print infusion technology. Designs Are the Same As Shown. Material: 100% Polycarbonate Hard Shell with Matte finish to give a premium look! High-quality printing. Product-nature: Made on demand specific to the customer's phone model. Full Button and port access:
Complete and unrestricted access to all standard buttons and ports

No interference with sensors

100% compatibility with regular charges and headphones
Product Features
A high-quality case with raised edge & inbuilt camera protection lens.

Easy to install & remove.

Very attractive & shows the true beauty of your mobile phone with a Mirror back.

Precisely made to fit best & easy to grip.

This protective cover shields against a variety of potential hazards, including damage, scratches, dirt, bumps, water drops, dents, and accidental falls.
Product Description
 A crisp, smooth look and advanced printing technology. It gives a Luxury look to your phone, compatible with Your Phone. 

 The materials used in this product are of high quality. 

 Responsive Buttons are independent, stylish buttons with contrasting colours that provide a distinct tactile input when pressed. When touched, delicate; feel with a firm grasp. 

 The edges of the Starbucks Mirror case fit snugly around the phone, preventing dust from entering and harming the device. This Cover maximizes protection while keeping the case's size as small as possible, allowing easy access to the speaker and other connections. 

 Protect your iPhone from dings and scratches easily, thanks to our raised edges designed to shield your screen and camera. Plus, you won't have to worry about adding bulk to your phone during regular use.
Product Review
Perfectly fit your iPhone with easy access to all buttons and ports, this chic design brings you a stylish using experience and embraces the original beauty of the iPhone.