Description
Silicone Case Cover
Fine Matte Finish, Silky Feel with Soft Colorful Liquid Silicone Case Cover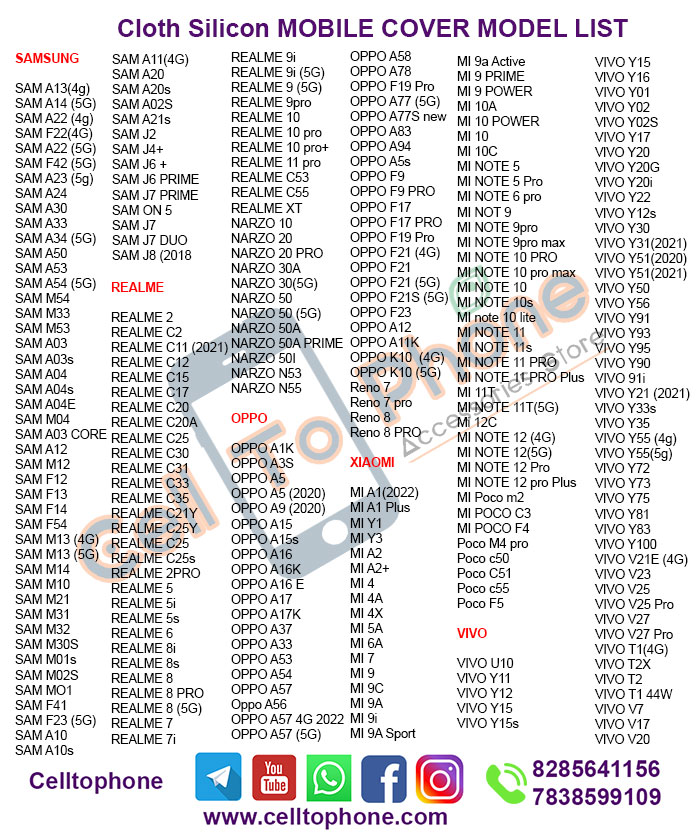 Raised Lips – Extra Protection
Camera & Screen Protection
Raised lips confirm extra safety of screen and back camera. Attractive cuts allow easy access to all ports, buttons, speakers, and cameras.
Premium Materials Quality
Manufactured from a high-quality, shock-absorbing, flexible TPU material that offers the finest defense for your Phone from life's rare misfortunes. The aesthetics are so good-looking; you'll want to. Push every button without consequence.
Full 360 Protection
Case Creation thin, but not too thin, 1.5mm design contours your iPhone ideally and leave nothing exposed, protecting your screen, camera, and the most vulnerable areas. Lay your Phone down front side or rear without worrying about scratching the display or camera lens
Scratch-resistant Technology
Scratch-resistant coating with crystal clear transparency defends your Phone from scratches, dust, and bumps while enhancing natural form and design.
Water Resistant with Long Lasting Technology
Longer life and cleaner look for your smartphone. This cover case has more enduring scratches and scuff marks than a regular one. Silicone cases have the feature of collecting dust.
Micro Fiber Cloth Inside
Never faded or discolor. No greasy fingerprints or annoying scratches are left due to the classy matte finish crafted on this protective Phone flat case. Its a unique, touching feel, just like baby skin. Also, Micro Fiber Cloth inside helps in protecting from getting spots on to back panel.
Precise Engineering
Each cutout is carefully engineered to balance exposure and coverage perfectly. The secure covered buttons are as responsive as they are relaxed to click. The charging port hole is sized just right to permit support for most third-party accessories.
ANTI-SLIP TECHNOLOGY
Soft and flexible material offers ultimate non-slip grasp while feeling smooth to the touch. Soft + Semi Never faded or discolored.
This case can defend the volume and wake up/sleep button fine. It is flexible to touch it.
Soft Liquid Silicone – Comprehensive Protection
Soft, flexible TPU offers the ultimate protection for your Phone. With raised up ends, corner bumper buffers for reinforced security.
 MAXIMIZED PROTECTION WITH MINIMAL DESIGN: Features two layers of protection: the double injected ultra-protective clear case and integrated shock-absorbing frame protect against scrapes, bumps, and more. Permits easy access to all buttons, controls, and Hot Pressed interiors to keep the device safe.
 FULL DEGREE OF PROTECTION: 4-side corner to corner coverage design and tapered front lip, lifted camera bezel raises your Phone above the surface to keep it safe and protected. It protects from Bumps and Drops and keeps your PHONE safe and protected in style.
 EASY ACCESS AND SLIM FIT: All buttons are easy to feel and press. Custom-made top and bottom cutouts for stress-free access to buttons and ports with comfort grip. Ultra-thin and light weight, Material, Plastic Material
 NON SLIP AND ANTI-SCRATCH – Specialized coating delivers long-lasting protection from scratches and scrapes. Non-Slipping TPU Bumper offers excellent grip and corner protection. Protects from Scratches, * Superior quality, * Protects your device, * Perfect cut out & fitting, * Lightweight, * Prevents damage & scratches to your device.
 ROYAL LOOK AND PERFECT CUT OUTS – Exposed buttons and port openings for quick and easy access to the Camera, Access to Audio Ports and charging ports, adds a splash of color, and delivers protection from scratches
Scratch-resistant and easy to install.1mm lip outer design raises slightly above the screen, protecting your phone screen or camera from dropping or laying face down on the surface.
Won't add bulk to your Phone. Unlike other silicone cases without bottom protection, this case provides surrounding protection for your precious Phone.
Like nothing's there. Access to all ports, controls & sensors. Buttons sense sensitively.