Description
M19 Wireless Earbuds
Wireless Earbuds Headset M19 These earbuds are so cool! They've got touch controls, a digital display, and Bluetooth 5.1 technology. Plus, you can use them hands-free thanks to the built-in microphone.
Product Name: Wireless Earbuds Headset M19 These earphones have touch-controlled Bluetooth 5.1, a high-quality microphone, and a unique digital display. They offer exceptional sound quality. Material: ABS Plastic Type: In The Ear Compatibility:
All Smartphones Net Quantity (N): 1 Color: Black Mic: Yes Bluetooth Version: 5.1 Charging Type: Micro USB Battery Charge Time: 2 Hours Frequency: 10 Hz Play Time: 20 Hours Noise Cancelling: Yes Water Resistant: Yes Sizes: Free Size Country of Origin: India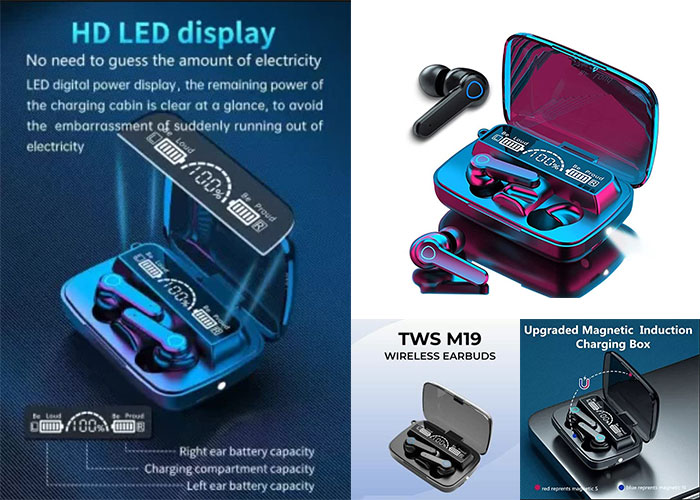 M19 Wireless Earbuds Features
The product has easy-to-use features. One tap to play or pause music, answer or end calls. One second hold to summon Siri. Three taps to lower the volume, two taps to switch to the previous song. Five-second holds to turn on or off. 

The earphones come with a LED digital display showing the charging compartment's remaining battery capacity, left earphone, right earphone, and total power. This feature helps users avoid any unexpected battery drain. These earphones are compatible with smartphones and tablets. 

To charge the earphones, place them in the charging compartment and cover them. The earphones will be charged automatically and light up red while charging. Once fully charged, the red light will go out. Additionally, the earphones have a built-in feature that allows you to take calls or redial the last call microphone. With its IPX7 waterproof feature, this device can withstand sweaty exercises in the gym. You can now enjoy music anywhere without worrying about water damage.

 Smart LCD Digital Display: You can check the battery consumption display anytime on a Smart LCD digital screen. The charging case presents its battery from 1%-100%. There are separate left and right headphone power consumption indicators. 5 grids in total, each grid represents 20% power of earphones (Lights off when fully charged). 

 These Bluetooth earbuds are designed for easy operation with advanced Bluetooth 5.1 technology. You can enjoy a faster and more stable connection and transmission. The earbuds come with one-step matching and automatic power-on and power-off features. When you take them out of the charging case, they will turn on and pair with each other automatically. When you put them back in the case, they will turn off and charge until fully charged.
M19 Wireless Earbuds Specification
HD LED display: Our charging case features an HD LED display that indicates the remaining power level. You won't have to guess or worry about suddenly running out of battery.
Very Strong Bass: Experience high-quality sound with our wireless earbuds featuring HiFi fidelity. The dynamic unit design provides excellent audio analysis, ensuring undistorted details and an exceptional listening experience.
Intelligent 3D Touch: These wireless earbuds come with a touch panel that is highly sensitive and recognizes your touch, allowing you to perform various tasks quickly and easily.
Large Capacity Charging Cabin: 5.0 Headphones with low power consumption are designed with a mini energy-gathering cabin and sensitive metal contacts that allow for immediate charging. This technology protects your wireless music experience.
Bluetooth 5.1 Powerful Performance: The new Bluetooth version 5.0 significantly improves over the old version. It offers a better transmission distance, enhanced signal stability, improved anti-interference ability, and reduced standby power consumption.
M19 Wireless Earbuds Review
Good product, good sound, better quality product worth buying. You can enjoy excellent music and sound with these buds. enjoy it
Compared to an M10 previous headphone, this has even better music quality and has even touch control for volume, changing music, etc.
The battery does last me multiple exercise sessions and phone calls, and I have used it in little rain without any issues. I would recommend these at such a reasonable price.