Description
Airpods Pro 2 Copy High Quality Product
Airpods Pro 2 Copy High Quality Product:- TWS i12 5.0 Wireless Earphone with Portable Charging Case Supporting All Smart Phones and Android Phones with Sensor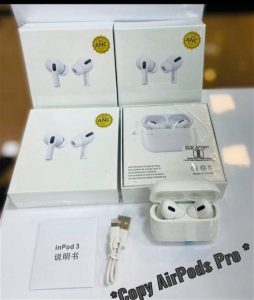 Active Noise Cancellation
GPS
Name Change
Dual Mic for enhanced calling
PopUp Connection Window
Siri/Google Assistant Working
Sliding Touch Control
3 pair of Extra Silicon Eartips
Speaker in charging case
Automatic Ear Detection
Active Noise Cancellation & Transparency mode
Airpods Pro (2nd Gen) uses noise cancelling technology to reduce unwanted background noise. Also, there is transparency mode, which lets you easily tune back into the world around you without switching off your music or taking your earphones out of your ears.
99% Ditto Clone of Original
This Airpods Pro 2nd Generation has the same design, size, features, working and packaging as the original. A person can only identify whether it is original or not if compared with the original piece.
Compatible with both iPhones & Androids
You can use these Airpods Pro (2nd Gen) with your Iphone, android mobile, tablet, laptop, Led TV or any other device with Bluetooth. It derives with Bluetooth 5.0, providing a range of about 10 meters.
Superior Sound Quality
The upgraded H2 chip powers more intelligent noise cancellation and three-dimensional sound. Adaptive EQ tunes music to your ears in real time to deliver crisp, clean, high notes and deep, rich bass in stunning clarity.
GPS
Inbuilt GPS helps you find the location of your Airpods. If you have lost them, open the Find My app on your iPhone, and you can see the location of your Airpods.
Other Features
With the help of Automatic ear detection, the moment you remove them from your ears, any music/video being played will be paused. There is also an option to pause this feature in the settings.
Using Touch Sensors, you can tap on AirPods to play/pause/next, and by sliding sensors, you can adjust the volume.
It comes with a Name Change feature, which lets you change your earbud's name via your mobile.
It has Proximity Sensors – The moment you take the earbuds out, they will automatically switch off, and you will get a PopUp Connection window on your Iphone.