Description
boAt BL12 Wired Earphones
The boAt BL12 Wired Earphones are indeed something that you can't resist. Enrich and enhance your auditory experience with the boAt BL12 Wired Earphones will meet all your requirements with their unique features and efficiency. Once you're in, you'll stay for the killer sound quality from the BassHeads BL12 In-Ear earphones.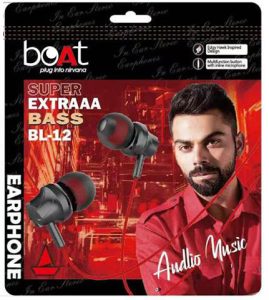 SUPER EXTRA BASS
Advanced design allows easy adjustment and ideal wearing well-being with powerful 10mm drivers for sonic clearness, bass-driven stereo sound, and brilliant attenuation of ambient sound.
Passive Noise Cancellation
The passive noise elimination feature enables users to relish listening to your music in chaotic and noisy surroundings – this feature also allows users to accept calls on the go.
Hands-free communication with an in-built microphone
Connect seamlessly with the built-in mic, high compassion, and a versatile frequency range to offer the ultimate experience.
boAt BL12 Stereo In-Ear Earphones are designed to give you an experience that no other product can match. The earphones feature 10mm drivers and deliver clear sound with that enhanced bass. The in-built noise isolation mic makes sure you dont miss those important calls. With two Wonderful colors that match your style in your day, the boAt earphones are superior for anyone who can carry the Hawk Attitude.
 Advanced housing design enables easy adjustment and optimal wearing relief with powerful 10mm drivers for sonic clarity, bass-driven stereo sound, and good attenuation of ambient noise. Sensitivity (dB) 92db ±3db, Frequency Response 20Hz-20KHz
 The noise-canceling microphone permits trouble-free receiving of calls or undeterred sessions of musical extravaganza.
 Made to fit you and your lifestyle, provided that a smooth grasp for an extra safe and comfortable fit for your ears
 The passive noise cancellation feature allows users to like listening to songs even in a chaotic and noisy atmosphere; it also allows users to receive calls on-the-go
 Created with care, the polished metal confirms its longevity; the tangle-free cable is lightweight and features user-friendly controls for easy functioning.
 Well-matched with all devices having a 3.5mm jack.