Description
With the Bluetooth Wireless Camera Remote Control, you can take great auto portraits of yourself and your friends by placing your iOS or Android device within Bluetooth range. Were you tired of comforting your arm, taking several bad shots, and cutting someone out? Everyone can be in the photo with a Bluetooth remote shutter. Never miss a group photo or selfie with this pocket-sized Bluetooth shutter.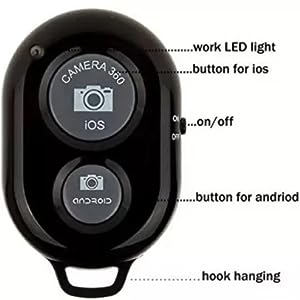 Eliminate camera shakes for razor-crisp photos every time. Snap pictures and Start/Stop video recording with the click of a button. Wireless Bluetooth Remote for Mobile Photography Auto-connects to your phone in split seconds. The blue indicator light makes it easy to know that the shutter is paired and ready to use. The ON/OFF switch is easily accessible, making it simple to turn the device on or off, even when you only have seconds to capture the perfect shot. With the Bluetooth Remote Shutter, you can take incredible auto portraits of you and your Loveones by placing your smartphone or tablet within Bluetooth range.
Bluetooth Wireless Camera Remote Control for Selfie Stick Compatible with All Mobiles
More than 3000 photos with one battery

Can take long-distance photos up to 10 mtr in the absence of obstacles

There is no need to download any apps for most devices. It will pair automatically with your phone or tablet via Bluetooth.

You can move around for those fantastic shots due to its range flexibility.
Shutter Button Bluetooth Remote for Smartphone
Instructions :
Press the power button, LED flash;

After powering on, press the Bluetooth pairing key, and the LED flashes slowly. The Bluetooth device can be paired with mobile phones. The LED turns off after successful pairing.

Long press the corresponding configuration key. LED will light up after configuration. The product can be used generally at this time.
Auto Dormant State
If the product remains unused for five minutes, it will go into a dormant state automatically. Please press the power button to turn off Remote when not in use to ensure the battery can be used for a long time.