Description
Best Wireless Mic for Vlogging
 K8 Wireless Mic for YouTube Vlogging Video Recording Online Classes/Lavalier Collar Microphone with Noise Cancellation Mic Supports Type-C Android & iPhone/Plug and Play.  
The wireless lavaliere microphone(only for the USB C port) is convenient and professional. The wireless K8 microphone can be clipped on the collar to free your hands for audio-video recording. Just 2 steps to connect. Step 1: Plug the receiver into your devices (USB-C port); Step 2: Power on the mic. Connected Success! No Need App/Bluetooth!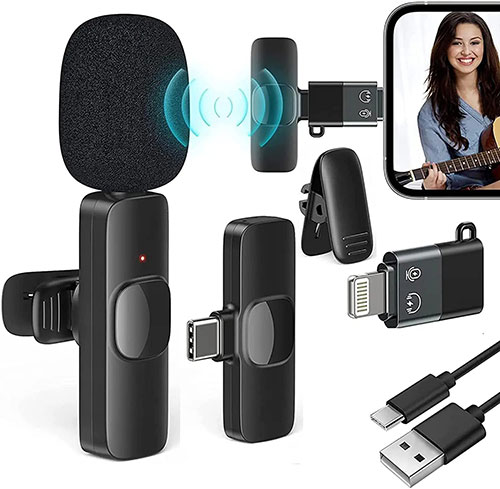 Note: You must remove the receiver to hear the audio playback. Our unidirectional wireless lavaliere microphone is built with professional-grade intelligent noise reduction chips, effectively identifying the original sound and clear recording in a noisy environment. The real-time auto-sync technology reduces video post-editing time, supporting a better experience in videos being watched.
Long Distance Transmission & Battery Lifespan: Advanced wireless microphone transmission technology, 65 feet constant audio signal transmission without cable and harsh noises. Your device powers the receiver (Can be charged simultaneously), and the transmitter's built-in rechargeable batteries work for up to 4-6 hours. Please read the user manual earlier using our products. Please charge the wireless lavaliere microphone before use for the first time. It would assist if you took off the receiver to be capable of hearing the audio playback.
Features
Connect & Play: The wireless lavalier microphone can be joined without an app or Bluetooth. Just turn on the microphone, plug the receiver into your device, and clip the microphone to your collar. Compatible: The collar microphone is well-matched with Type-C Android smartphones, Lightning (iPhone/iPad), and Lightning tablets. Due to its extensive compatibility, you can use this microphone to capture videos for things like YouTube vlogging, online classes, and reels.
Noise Cancelling Microphone: The Omnidirectional Condensor Microphone built into the device helps to capture sound from all directions while ignoring all ambient noise. It has a noise cancellation chip that cancels out all ambient noise and records only clear sound.
Wireless Mic: The device powers the receiver, while the lapel microphone charges for six hours. The wireless mic may be utilized without any hurdles at a distance of 20 meters.
The built-in high-sensitivity sound capture chip in the omnidirectional microphone for iPhone, Android, and PC allows for the highest support of 20 Khz high-frequency. Anyone eyeing for a high-quality, high-fidelity recording option for their smartphone, video recorder, YouTube live stream, Facebook live comments, Tiktok, or vlog short video should choose a wireless lavalier microphone.
What is in the box?
 ‎1 X Wireless Mic With Attached Clip, 

 1 X Micro USB Phone Connector 

 1 X USB Type A Phone Connector 

 1 X iPhone / iPad Lightning Connector for OS 

 1 X Type C Transmitter, 1 Manual,1 Charging Cable