Description
Its compact, intuitive design makes on-the-go charging easy.
Features
The perfectly Made magnets keep it attached to your iPhone 12 and iPhone 12 Pro or iPhone 13 and iPhone 13 Pro — providing safe and reliable wireless charging. And it automatically charges, so there's no need to turn it on or off. There's no interference with your credit cards or key fobs either
Specifications
The MagSafe Battery Pack can charge even faster with a 27W or higher charger, like those that ship with MacBook. And when you need a wireless charger, just plug in a Lightning cable for up to 15W of wireless charging. It has the same underlying technology that Apple has provided on its MagSafe wireless charger.
The wireless portable power bank you mentioned is a 5000mAh battery pack designed for wireless charging and compatibility with various iPhone models, including the iPhone 12 series, iPhone 13 series, and iPhone 14 series.
Here are some important points to consider: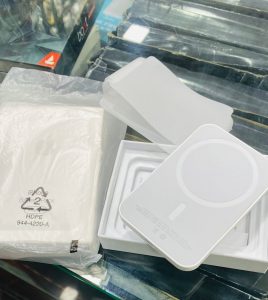 Battery Capacity: The power bank has a capacity of 5000mAh, indicating its energy storage capacity. It determines how many charges it can provide to your devices before recharging. The charges may vary based on the device's battery size and efficiency.
Wireless Charging: This power bank supports wireless charging, allowing you to charge your compatible iPhone models by placing them on or near the power bank's charging surface. It utilizes the Qi wireless charging standard, widely adopted by many smartphones.
Compatibility: The power bank is compatible with iPhone models in the 12 series, 13 series, and 14 series. This includes the iPhone 12, iPhone 12 Mini, iPhone 12 Pro, iPhone 12 Pro Max, iPhone 13 Mini, iPhone 13, iPhone 13 Pro, iPhone 13 Pro Max, iPhone 14, iPhone 14 Mini, iPhone 14 Pro, and iPhone 14 Pro Max. It is important to note that compatibility may extend beyond these specific models as long as they support wireless charging.
Wired Charging: The power bank may offer wired charging options such as USB ports or other connectors besides wireless charging. This allows you to charge devices that do not support wireless charging using a cable.
Portability: As a portable power bank, it is designed to be compact and easy to carry around. This allows you to conveniently charge your devices while on the go or when access to a power outlet is limited.
When purchasing a wireless power bank, ensure that your specific device models support wireless charging and verify the compatibility with the manufacturer's specifications. Following the provided instructions for usage and maintenance is essential for optimal performance and safety.
 It's Not an Original Apple Product. Its the Same Compatible one. The MagSafe Battery Pack PowerBank is, far and away, one of our most popular items. People can't seem to get enough of it. Wireless Portable Charger, PowerCore.