Description
Bluetooth-compatible: 5.0 Battery: Charging Case: 500mah, Earphone: 40mah Battery Life: 4 hours Charging Time: 1.5 hours Feature: ENC Noise Canceling & HiFi Stereo Sound. Wireless headphones with a microphone equipped with ENC noise reduction and software call noise reduction algorithm make the call sound quality clearer.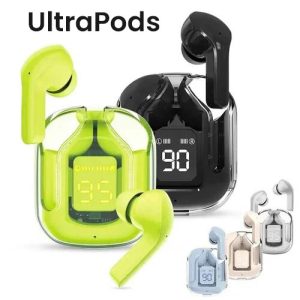 Ultrapods True Wireless Earbuds Bluetooth-compatible earbuds have titanium dome composite membrane moving coil speakers. The HiFi stereo sound of the wireless Earbuds offers a more expansive sound field and a shocking low-frequency experience.
Ultrapods wireless earbuds for iphone support touch control of every earbud; you can control answer or hang up calls, play or pause, volume up or down, switch songs, etc., without operating the mobile.
Ultrapods Bluetooth-compatible earbuds with 3 different sizes of ear tips for most ear canals.LED display of the power of the charging case and together earbuds, permitting you to know the power status of the wireless earbuds and charging case at any time. Fine workmanship and good performance. Easy to use. Long service life.
ENC Noise Cancelling & HiFi Stereo Sound
The Crystal features ENC noise reduction and a sophisticated algorithm for better call quality. Enjoy immersive HiFi stereo sound with an extensive sound field and powerful bass.
Signature Sound
The Signature Sound mode is tailored for enjoying music, while the Hifi Bass offers a Bass effect suitable for your songs, ensuring a well-balanced sound for clear vocals.
LED Digital Battery Display
Stay informed with the precise LED display showing the power status of both earbuds and charging case.
Fast Charging and long Battery Life
Fast charging with these earbuds. Just 10 minutes of charging gives you 3.5 hours of use. With a full charge, enjoy four hours of playback and up to 30 hours with the portable charging case for uninterrupted music enjoyment on the go.
One Touch Control with Instant Pairing
These earbuds feature touch controls on both buds for extraordinary call handling, playback control, and volume adjustment. These earphones offer seamless auto connection immediately when the earbuds are removed from the charging case.
Gaming Compatibility
Advance and competitive edge with the Crystal, provided that ultra-low latency of up to 40ms* for lightning-fast response times, ensuring you stay ahead of the competition with seamless and highly responsive gaming.
Silicon Protective case with String
Discover the flawless blend of style and protection with our newest earbuds. Encased in a sleek silicon protective case adorned with a convenient string, these earbuds deliver exceptional audio and keep them secure and ready for action on the go. Elevate your listening experience in style!