Description
Buy 25w Soldering Iron at the Lowest Price Online in India
25W Soldering Iron is a powerful tool that will revolutionize your soldering experience. Designed for efficiency and convenience, this soldering iron has impressive features that will prepare you for soldering quickly.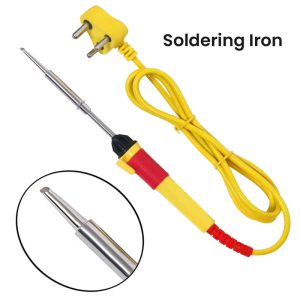 One of the standout features of this kit is its quick heating ability. Within minutes, the soldering iron reaches the best temperature, permitting you to start working on your projects without delay. Gone are the days of waiting impatiently for your soldering iron to heat up. This kit lets you dive right into your work with minimal downtime.
The cord length of 55 inches offers you the freedom and flexibility to move everywhere in your workspace without being restricted by a short cord. Whether working on intricate electronics or larger projects, you can easily manoeuvre the soldering iron without worrying about running out of cord length.
25 W Soldering Iron is designed with precision and durability in mind. The 25 W power rating perfectly balances performance and energy efficiency. It ensures the soldering iron maintains a consistent temperature throughout your tasks, allowing for precise and reliable solder joints. Additionally, the kit includes a range of essential accessories to enhance your soldering experience.
From soldering guidelines of various sizes to a soldering iron stand, all the essential tools are suitably included to meet your soldering needs.The 25 W Soldering Iron is a reliable and efficient solution offering quick heating, generous cord length, and comprehensive accessories. Whether you're a professional or a hobbyist, this kit will provide the tools to achieve exceptional soldering results.Invest in the 25 W Soldering Iron and take your soldering tasks to new heights of exactness and efficiency.
Low current leakage
Light Weight and Offers good grip
General purpose for all electronic applications.
Advanced Heating element
High-quality nickel-copper plated Bit
Quickly attains the working temperature
Constant Tip temperature
Rubber grip for high comfort use
3-core moulded plug for Higher Efficiency
Nylon handle for a better quality body
25 W Soldering Iron Kit online in India at wholesale rates. If you have been looking for Walkers 25 W Soldering Iron Kit dealers, your search ends here as you can get the best Walkers 25 W Soldering Iron Kit distributors in top cities such as Delhi NCR, Mumbai, Chennai, Bengaluru, Kolkata, Chennai, Pune, Jaipur, Hyderabad and Ahmedabad, Mizoram.
You can purchase a 25 W Soldering Iron Kit of the finest quality, and rest assured you get the best in durability and performance. If you are bothered about the  25 W Soldering Iron Kit prices, you can be sure to get the best rates as Industrybuying brings you genuine 25 W Soldering Iron Kit rates and quality-assured products only from the best of brands with exclusive brand discounts you won't find anywhere else. Procure the 25 W Soldering Iron Kit today and avail yourself of the best offers on your purchase.