Description
Marvel Smartwatch Strap
Strap inspired by Marvel Super Heros. A watch band is a versatile and fashionable accessory designed to improve the functionality and appearance of your smartwatch. Its compatibility across multiple smartwatch models, including the designed to be compatible with a wide range of smartwatches, including the 38/40/41/42/44/45/49 and 22mm Also Available.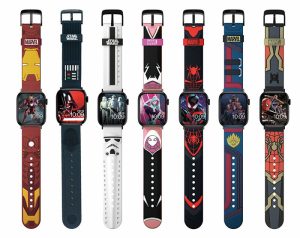 This strap offers a suitable way out for users with different devices. Crafted from high-quality silicone material, the strap offers a comfortable and durable fit. The smoothness and flexibility of silicone confirm a gentle feel on your wrist, even during prolonged wear. This material also boasts outstanding resistance to wear and tear, confirming the strap's durability.
Marvel  Smartwatch Strap is compatible with all versions of the Apple Watch.
Thanks to its quick-release mechanism, installing the Smart Watch strap is a breeze. Say ta-ta to bulky tools and complicated procedures. With a simple click, you can easily attach and remove the strap from your smartwatch, making it suitable to switch between different bands or swap a worn-out strap.
Comfortable and Durable:- This strap is made of high-quality silicone material, known for its softness and flexibility. It provides a comfortable fit on the wrist, even during extended wear. The silicone material is also durable and resistant to wear and tear, ensuring the strap's longevity.
Easy Installation:- It includes the features of a quick-release mechanism that allows for easy and tool-free installation. You can easily attach and detach the strap from your smartwatch, making it suitable to switch between different bands or change a worn-out strap.
Adjustable Length:- The strap is designed with multiple adjustment holes, allowing you to find the perfect fit for your wrist. Whether you have a small or large wrist, you can adjust the length of the strap to ensure a secure and comfortable fit, preventing it from sliding around during daily activities.a day without fading.
Stylish Design:- It is available in various color options, enabling you to personalize your device and match your style. Whether you prefer a exciting and eye-catching color or a more delicate and classic look, there is a strap option to suit your preferences.