Description
Leather Mobile Back Cover
Highly Shock Proof:- Made Of High-Quality Material, This Cover Is Highly Shockproof Protect Phone From Accidental Drops Very Easily. And Above All, This Cover Is Waterproof(Your Phone May Not Be) And Washable Reusable Time After Time. Shockproof Dual Layer:- New Premium Urban Dual Layer Design With Ultra Stand Case For Ultimate Looks On Your Precious Investment.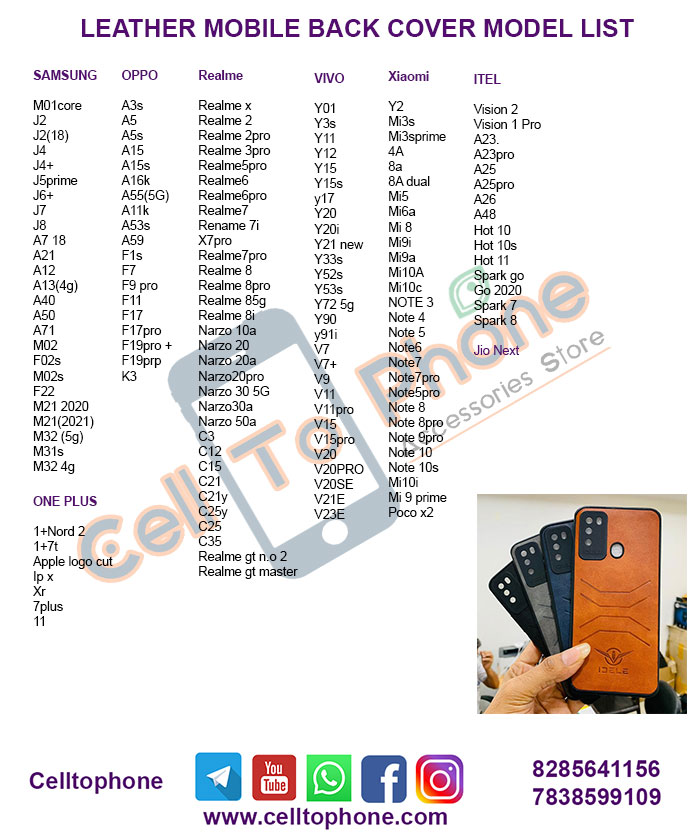 Luxury Leather Case
Made of high-quality Premium PU Leather
Excellent for Men, Women, Boys and Girls.
360° full cover: Perfect Protection Against Dust, Dirt and Scratches. Your mobile phone perfectly.
Quick and Simple Snap-On Installation For Your Phone.
Full Coverage:-360 Degree Coverage With Raising Tips From the Front To Protect the Phone From Every Angle. All Over Protection:- With Snugg Fit Covering All Over Volume Rocker And Power Switch With Tactile Buttons Makes Phone Damage And Dust Free. Anti Slip:- Made Of Perfect Anti Slip Grip Material Provides Excellent Hand Feeling.
A leather mobile back cover refers to a protective case for a smartphone or mobile device that is made from genuine leather or synthetic leather materials. Here are some key points about leather mobile back covers:
Material: Leather mobile back covers are made from genuine or synthetic leather. Genuine leather is derived from animal hides, such as cowhide or sheepskin, and offers a luxurious and premium feel. Synthetic leather, on the other hand, is an artificial material that mimics the look and feel of real leather.
Protection: Leather mobile back covers protect the back and sides of the device, safeguarding it against scratches, minor impacts, and everyday wear and tear. The leather material adds a layer of durability and can help absorb shocks from accidental drops.
Style and Aesthetics: Leather covers often add a touch of elegance and sophistication to the device's overall look. They come in various colours, textures, and finishes, allowing users to choose a style that suits their preferences. Leather covers can enhance the device's appearance and give it a more premium and stylish feel.
Grip and Comfort: Leather covers typically offer a good grip, making it easier to hold the device securely. The leather's natural texture provides a tactile feel that can improve comfort and prevent the device from slipping out of your hand.
Durability: Genuine leather covers tend to be more durable over time than synthetic leather, as they develop a unique patina and character. However, Synthetic leather covers are often more affordable and can offer decent durability and protection.
When purchasing a leather mobile back cover, it's essential to consider the compatibility with your specific device model and factors such as the quality of the leather, the stitching, and the overall design.