Description
The Tablet screen is smooth, which promotes soft writing or drawing. You can now draw, paint, or practice writing letters and spelling without worrying about making a mess on the ground or wall. This is not only a fun activity, but also a great way to save paper and help the environment.
Go Paperless with the LCD Writing Tablet -Your Portable Solution for Notes and Sketches On-The-Go!
Introducing the LCD Writing Tablet – the perfect gadget for anyone who wants to take notes or doodle on the go without the hassle of carrying around a bulky notebook or sketchpad. This device is designed to be portable, durable, and easy to use, making it an ideal tool for students, artists, business professionals, or anyone who needs a convenient way to jot down ideas or sketches. This is an ideal choice if you love your environment and want to save trees.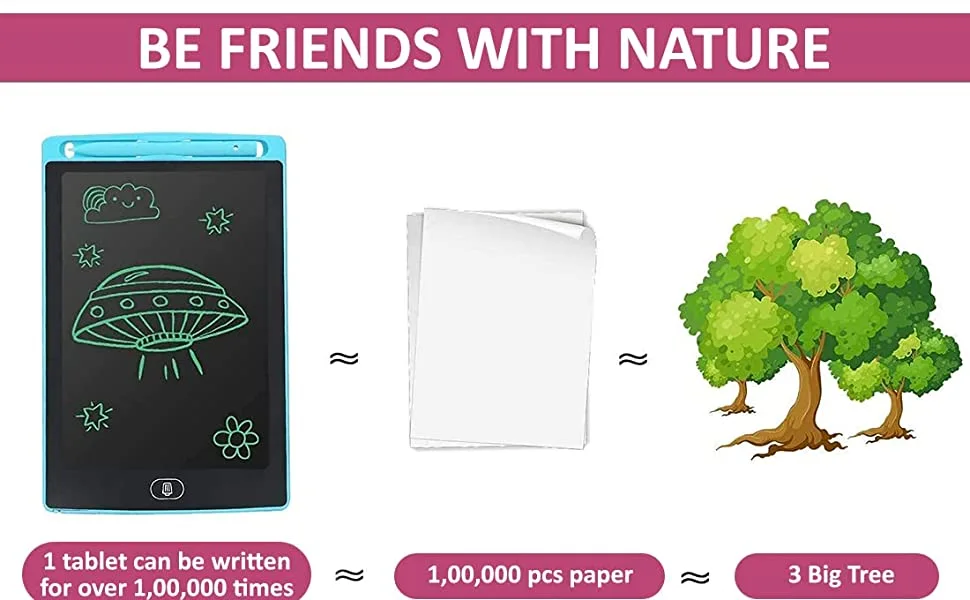 Multipurpose Use LCD Writing tablet
Convenience: The LCD Writing Tablet is a convenient tool for taking notes, drawing, or writing down ideas. It eliminates the need to carry bulky notebooks or sketchpads, making it an ideal tool for kids, students, artists, and business professionals.
Key features.
Benefits: one of the biggest benefits of the LCD Writing Tablet is it helps nature. With this tablet, there is no need to waste paper or pens. It is a tool that reduces paper waste and saves money on buying writing supplies. Plus, the erase button makes it easy to start over or correct mistakes, reducing the need for additional paper.
Easy to use: The tablet is simple, and the included pen makes it easy to write or draw precisely. Plus, the erase button makes it easy to start over or correct mistakes, and it also has a lock button at the back so that you don't delete your important notes by mistake.
Versatility: The LCD Writing Tablet can be used for various tasks, from taking notes to drawing to playing games. It is a versatile tool that can be used in a wide range.
Durability: Made of high-quality materials, the LCD Writing Tablet is built to last. It can withstand regular use and is designed to be long-lasting.
Healthy, safe and convenient.
This LCD writing tablet Gives you a safe and healthy option for your kids as it does not emit any harmful Blue light and makes them easy on the eyes. It will help your child.
Perfect gift for your love once.
It's an amazing Gift idea for your loved ones, whether kids or adults. The Versatility of this LCD writing tablet makes it useful for everyone.
LCD Writing Tablet Review
LCD writing tablets offer a convenient digital alternative to traditional pen and paper. They have a pressure-sensitive screen for writing and drawing, and the content can be easily erased with the press of a button, making them reusable. These tablets are portable, lightweight, and easy to use, with no complex setup or software required. They are eye-friendly and usually don't require batteries or charging. However, they typically lack advanced features like content saving or compatibility with other devices. LCD writing tablets are popular among children for their simplicity and mess-free drawing experience. Overall, they are a practical tool for quick notes, doodling, and simple tasks.
Certainly! Here's a summary of the FAQs about LCD writing tablets:
What is an LCD writing tablet?
It's a digital device with a pressure-sensitive screen for writing and drawing.
How does it work?
The screen detects stylus movements, converting them into visible marks.
What are the advantages?
Reusable, portable, simple to use, eye-friendly, and battery-free.
Can you save or transfer content?
Traditional models don't have built-in saving features, but some newer ones may have Bluetooth or companion apps for content transfer.
Are LCD writing tablets suitable for children?
Yes, they're often used by children for drawing and learning activities.
Are there different sizes available?
Yes, they come in various sizes to suit different preferences.