Description
K8 Wireless Mic Plug n Play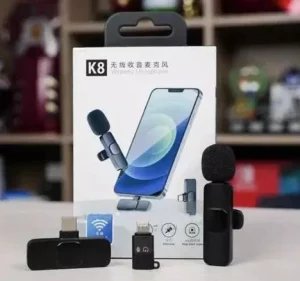 Introducing the K8 Wireless Microphone: Elevate Your Audio Experience
Best wireless mic for performances | Wireless microphone for teachers

Are you tired of the limitations of wired microphones during your performances or presentations? Do you crave the freedom to move around while enjoying top-notch audio quality? Look no further than the K8 Wireless Microphone – the perfect companion for all your audio needs! Designed with cutting-edge technology and designed for versatility, this wireless microphone is here to revolutionize how you communicate and entertain.
Unparalleled Wireless Performance:
Say goodbye to tangled cables and restricted movements. The K8 Wireless Microphone liberates you from the constraints of a wired setup, providing a wireless range of up to 50 meters, giving you the freedom to interact with your audience, roam the stage, or easily navigate a conference room. Whether you are a professional performer, a public speaker, a fitness instructor, or a teacher, the K8 Wireless Microphone ensures your voice is heard loud and clear.
Crystal Clear Sound Quality:
Don't compromise on audio clarity. Equipped with advanced audio technology, the K8 Wireless Microphone delivers exceptional sound quality, capturing every nuance and detail of your voice. Whether you're singing, speaking, or presenting, your audience will be enthralled by the richness and precision of your audio, ensuring an unforgettable experience every time.
Multi-Device Compatibility:
The K8 Wireless Microphone is designed to be versatile and compatible with various devices. Whether it's a smartphone, tablet, laptop, or speaker system, connect the microphone through its user-friendly Bluetooth interface or the 2.4GHz receiver. Its plug-and-play functionality ensures a seamless setup process, eliminating technical hurdles that might distract you from your performance or presentation.
Long-lasting Battery Life:
Are you worried about running out of battery mid-performance? Fret not! The K8 Wireless Microphone boasts an extended battery life, ensuring you can keep the show going without interruptions. Enjoy hours of uninterrupted usage with a single charge, making it suitable for rehearsals, gigs, conferences, and any situation where reliable performance is paramount.
Durable and Stylish Design:
The K8 Wireless Microphone delivers exceptional performance and flaunts an elegant and sturdy design. Constructed from premium materials, it is built to withstand the rigours of frequent use while exuding a professional look. Its ergonomic design ensures a comfortable grip, making it easy to handle even during extended sessions.
Perfect for Karaoke Enthusiasts:
The K8 Wireless Microphone is a game-changer for all karaoke enthusiasts. Its echo and reverb effects transform your karaoke nights into an immersive and entertaining experience. Sing your heart out, dance freely, and engage your friends and family in unforgettable sing-alongs.
K8 Wireless Microphone – Specifications:
Wireless Connectivity:
Bluetooth Technology: Version 4.2
Wireless Range: Up to 50 meters (may vary based on the environment)
Frequency Band: 2.4 GHz
Audio Quality:
High-fidelity Sound: Crystal clear and detailed audio reproduction
Echo and Reverb Effects: Enhances the karaoke experience
Compatibility:
Supported Devices: Smartphones, Tablets, Laptops, Speaker Systems, etc.
Operating Systems: Compatible with Android, iOS, Windows, and other Bluetooth-enabled devices
Connectivity Options: Bluetooth or 2.4GHz Receiver (included)
Battery:
Battery Type: Rechargeable Lithium-ion
Battery Life: Extended usage time for uninterrupted performances
Charging Time: Quick charging for minimal downtime
Design:
Material: Premium and durable construction
Ergonomic Grip: Comfortable to hold and use for extended periods
Stylish Finish: Professional appearance suitable for various settings
Additional Features:
On/Off Switch: Easily power the microphone on and off
Volume Control: Adjust the volume level directly on the microphone
LED Indicator: Indicates battery and connectivity status
Package Contents:
K8 Wireless Microphone
2.4GHz Receiver
USB Charging Cable
User Manual
Dimensions and Weight:
Dimensions: 30 x 30 x 20 Millimeters
Weight: 80g
In Conclusion:
The K8 Wireless Microphone combines convenience, top-notch audio quality, and various features to cater to all your audio needs. Whether you're a performer, presenter, educator, or casual karaoke lover, this wireless microphone elevates your audio experience to a new level.
Upgrade your audio game today and get the K8 Wireless Microphone. Order now and discover the joy of wireless audio freedom!