Description
Cartoon with Latkan case cover
This cute cartoon Cover gives Great Protection with premium quality with delicate silicone. Shields the handset from effect and tidy harm. Give your mobile a design makeover with this beautiful shading and particular style.!
Slip-free rubberized silicon grip! High-quality soft silicone material! Precise cut-outs! Shock protection! Vibrant colors & designs! Easy to install & remove.!
Protection- This Cute Kitty Case comes with all-around great protection; it covers all 4 sides with 360-degree protection, and the raised lips technology protects the camera and screen coz it does not touch the surface when it falls

Design- When you move your phone Case gives you an ultimate and awesome design; it adds value to your mobile phone; it presents a Premium, designer, and Luxury Look

Material- Used Top Grade Material to provide durable and long-lasting case covers. The sides and back of the case cover are made of Silicone which protects from scratches and any scratches and bumps

Precise Cutouts – This Kitty Case is Perfectly designed in a way that you can use all buttons, controls, and ports smoothly without any hassles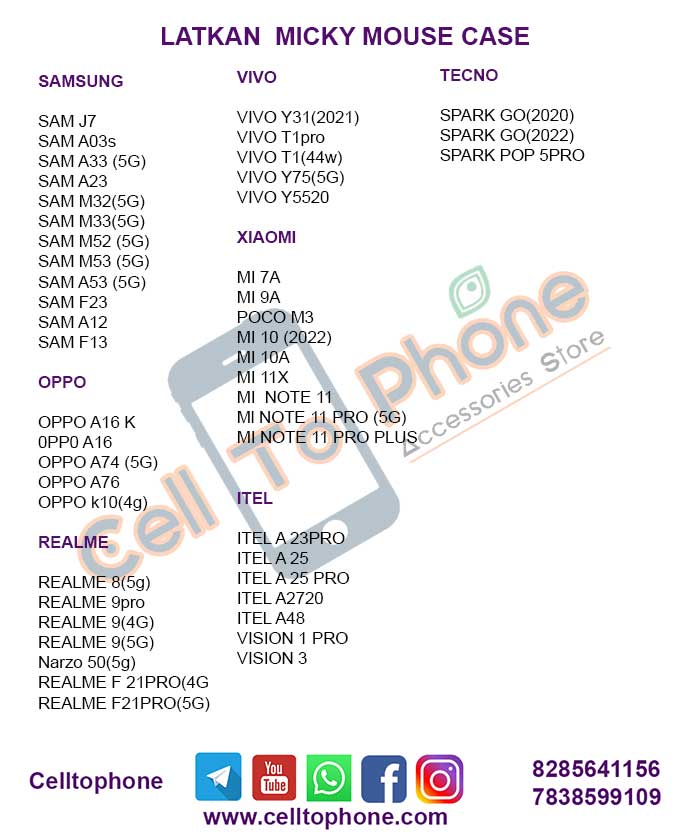 CHOICE MODELS, PLEASE MAKE AN ORDER IN THE RANGE
Soft cartoon mobile back covers typically have the following features:
Soft Material: These back covers are usually made of soft, flexible materials such as silicone, TPU (thermoplastic polyurethane), or rubber. This soft material provides cushioning and protection for your phone.
Cartoon or Animated Character Design: Soft cartoon back covers feature vibrant and colourful designs inspired by famous cartoons or animated characters. They may depict characters from TV shows, movies, comics, or video games.
Precise Cutouts: The back covers are designed with precise cutouts for easy access to all ports, buttons, speakers, and the camera of your mobile phone. This allows you to use your phone's features without removing the cover.
Shock Absorption: Soft materials like silicone or TPU have shock-absorbing properties, which help protect your phone from accidental drops or impacts. They can absorb the shock and minimize the chances of damage to your device.
Slim and Lightweight: Soft cartoon back covers are generally slim and lightweight, adding minimal bulk to your phone. They protect without compromising the sleekness or portability of your device.
Easy Installation and Removal: These back covers are typically easy to install and remove, allowing you to switch between different designs or clean your phone easily.
Anti-Slip Grip: Soft materials often have a slightly textured or grippy surface, which helps prevent accidental slips or drops. It enhances the overall grip of your phone.