Description
Buds Silicone Case
This Buds Silicone Case helps hide the headphone's top openings and makes it dust and water-resistant. The cover comprises the same material, giving a grip and a lovely feeling while handling. Using the hook with this product, you can attach it to the bag, making it easier to carry without worry.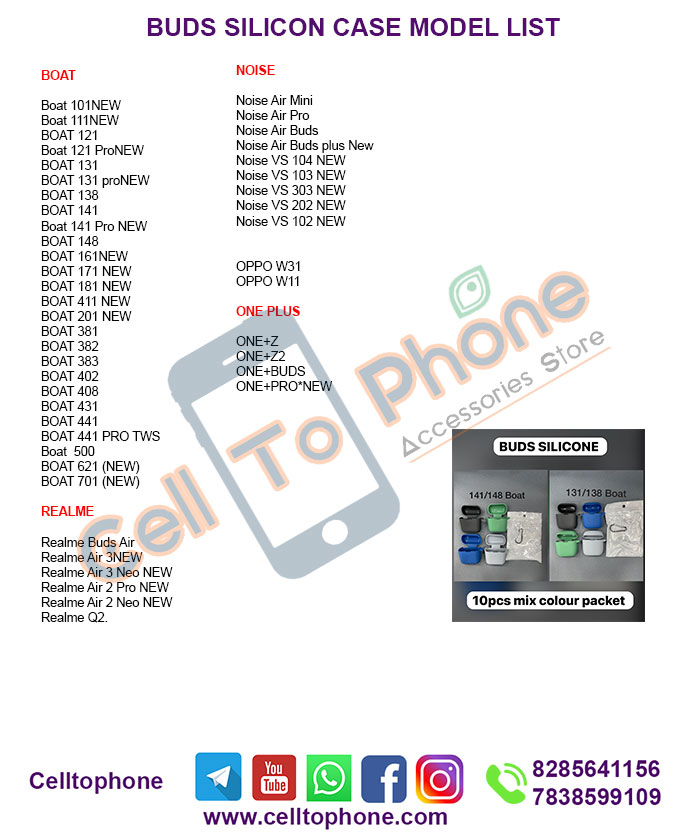 EARBUDS ARE NOT INCLUDED
Easy and convenient to use. Easy to install and remove. Anti-slip embossed surface avoids the case from slipping out of hand and protects your headset from damage when dropping accidentally.
The cover comes with a metal key chain clasp, perfect for running and other outdoor sports. Firmly hook the chain dangling on your jeans or backpack.
The power button and USB socket are well made; the perfect cut size means you can press the button and charge the Noise Buds pro without taking off the case.
Made of the best elastic silicone for a smooth, dust-proof, and shock absorption surface. Delivers full protection.
Safe and clean.
Easy installation, Easy to Remove, and perfectly fit your buds with minimal bulk.
Made of Durable, impact-resistant, highly silicone rubber, it brings comfortable, smooth touch and flexibility. Won't tear easily
The lowest grooving layout offers you clean access to the lightning port; no want to take it out of the case whilst charging.
Easy to Clean
Long-lasting durability with the protection you can trust. No matter how long you use it, the Earbuds case silicone protective cover will not go to be loose or out of shape; no more worries about losing the top cover or slipping off your Earbuds; just take the Earbuds case shockproof, and you will know what a difference of the Earbuds charging case covers.
Slim Form Fitting Design
The skinny-designed case perfectly matches the shape of your buds while made with food-grade silicone, which is more rigid than standard silicone and super comfortable.
Easy to Install
Easy to install, Separating Case Design, according to the size of the Earbuds to fit your Earbuds perfectly, Compatible with Buds.
All-around Protection
Multy layer Cover for Earbuds, Internal TPU material, offers easy installation. Silicon cares about your Earbuds more and prevents scratching. Middle liquid silicone protects Earbuds from bumps and drops. The advanced outer barrier can prevent Earbuds from dirt, scratch, oil, and fingerprint.