Description
Astronaut Phone Stand Holder
Creative Astronaut Kickstand – A Versatile and Adjustable Mobile Holder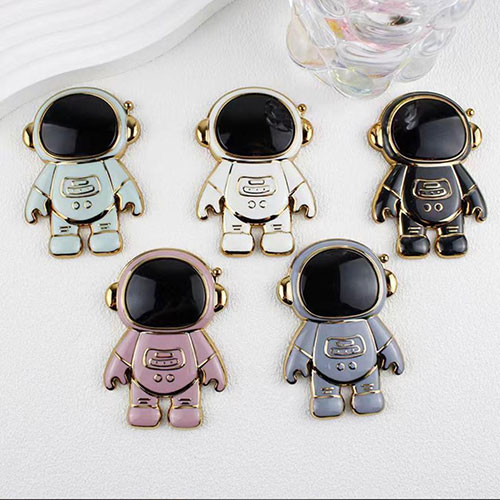 Introduction:
Step into space exploration and innovation with the Creative Astronaut Kickstand! This unique and creative mobile holder is designed to captivate your imagination and provide a functional and adjustable solution to hold your smartphone or tablet. Whether you are an aspiring astronaut or a space enthusiast, this astronaut-inspired kickstand will add a touch of wonder and charm to your daily tech setup.
Embrace the Astronaut Design:
The Creative Astronaut Kickstand boasts a captivating astronaut design, handcrafted with attention to detail. Its space-suited figure stands tall and ready for adventures among the stars, bringing an element of playfulness to your device setup. This astronaut-inspired design is bound to spark conversations and draw admiration from friends, family, and co-workers.
Versatility and Sturdiness Combined:
Crafted with high-quality and durable materials, the Creative Astronaut Kickstand guarantees stability and reliability. It is compatible with various smartphones and tablets, accommodating various sizes and thicknesses. Whether you have an iPhone, Samsung Galaxy, iPad, or any other device, this kickstand will securely hold your tech in a horizontal or vertical position.
Adjustable Viewing Angles:
The Creative Astronaut Kickstand is designed with flexibility in mind. Its adjustable joints allow you to achieve the perfect viewing angle for watching movies, video calls, or browsing the web. You can easily switch between portrait and landscape orientations, ensuring a comfortable and hands-free experience every time.
Compact and Foldable Design:
Ideal for both home and travel, the foldable design of the Creative Astronaut Kickstand ensures convenient portability. Fold it down, and it easily slips into your bag or pocket, making it a practical accessory for on-the-go lifestyles.
Beyond Just a Kickstand:
This astronaut mobile holder goes beyond its primary function. Display it as a quirky decor piece on your desk, bookshelf, or bedside table. Its eye-catching design will add a playful touch to any space while showing off your fascination for space exploration.
The Perfect Gift:
Are you seeking a unique gift for a space enthusiast or a tech-savvy friend? Look no further! The Creative Astronaut Kickstand is a thoughtful, imaginative gift choice combining aesthetics and functionality.
Conclusion:
Bring the wonders of space exploration into your everyday life with the Creative Astronaut Kickstand. Its creative design, adjustable functionality, and sturdiness make it a standout mobile holder for all ages. Whether you're a space enthusiast or just looking for a practical and entertaining accessory, this astronaut kickstand will impress. Embrace the stars, and take your device experience to new heights!