Description
7 in 1 Electronic Cleaner kit
Bluetooth Headphones Cleaner Pack:
The Silicone Tip is Utilized to Eliminate Stains in The Cleft of Earphones, Keys. 7 out of 1 Console Cleaning Brush Kit: The Keyboard Cleaner Unit Consolidates Five Capabilities, Silicone Tip, Nylon Fibers, Running Wipe, Console Extractor, Wool Cleaning Blocks for Each Cleaning Need! The Brush is Utilized to Eliminate Soil from The Sound Openings of The Headphones.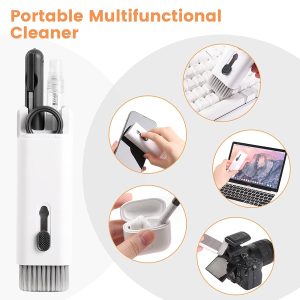 The Rushing Wipe is Utilized to Clean from Within The Headphone Charging Case. Key Puller PC Cleaning Apparatuses: The Difference in Key Cap is As of now not Relentless, Which Makes Eliminate The Keycaps and Cleaning The Console Simpler and Completely.
Screen Cleaning Pack: The Cleaning Brush is Likewise The Screen Wiper, So You Never Need to Look for a Material; simply Shower and Wipe! Profound Cleaning: Profound Cleaning, Each Edge of The Console Headphones, Make Residue No place to Stow away; utilize The Pen Tip to Clean The Residue and Garbage in The Bluetooth Headset Box or The Hole of The Headset, and afterward Utilize The Brush as an afterthought to Wipe Away The Trash.
7-in-1 Electronic Cleaner Pack with Eyeglasses Material: earphone cleaning pen (collapsed), screen cleaning shower (push switch), keycap puller, Capacity Case (with a major brush and super fiber fabric), and eyeglasses material.
Touchscreen Cleaner Splash with 5ml Screen Cleaners: Utilize the cleaning answer for shower a layer on the screen first, then wipe it with the super fiber material as an afterthought so the screen is new and doesn't simply get fingerprints.
Headphones Cleaning Pen Set for AirPods and its Case: Works with any earphone gadget. The silicone tip cleans the headphones without agonizing over harming the delicate pieces of the headphones. A soft brush cleans earwax from the channel. At long last, utilize the wipe tip to clean the Airpods compartment.
PC Console Cleaner Devices with Key Puller: Pull the trapezoid keycap, use an enormous cleaning brush to clean it, and use the cleaning pen to zero in on cleaning the holes or corners so your console can be cleaned all the more completely.
Lightweight and Little: Under 100g and little more than a little apple, it could assist you with cleaning hardware like your telephone, gadget screen, vehicle show, Drove, headphones with its case, and so forth. It is a decent accomplice for your tech gadgets.