Description
3D Heart Design Case for Apple Charger:- 20W USB-C Power Adapter Charger, Cute Cartoon Lightning Cable Protection Cover for iPhone Charger These cute charger savers are built of PVC material, which is non-toxic and fragrance-free, easy to touch, soft and durable for a long time of usage, and the bright colors won't fade quickly.
3D Heart Design Case for Apple Charger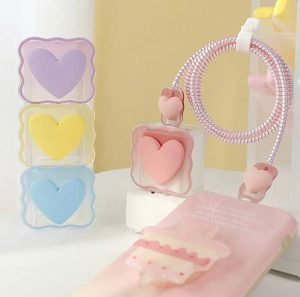 Attractive and cute-looking, it can cover your cable and power adapter while also preventing it from disconnecting. You don't have to remove them as often if you put them on the cable at any time.
Perfect Gift: The USB cable protectors feature a great design and come in a variety of attractive Cartoon shapes, making them a great mobile phone accessory! You can give it as a gift to children, family, or friends who are having problems with data line interface loss. Their nice-looking appearance will draw everyone's attention.
Practical function: These good-looking cable protectors prevent your charging cable from bending, minimizing the risk of wear and damage, and extending the life of your data line.
Looks accurately how it does in the images | Unique charging case design They're stylish, so why not make them seem even more stylish and trendy with Envate's hip and sexy case collection?
Charge in a Unique Way – Don't leave your iPhone or iPad's powerful charger exposed; they are a need and come at a high value. Made with superior materials, these unique quirky silicon cartoon cases will keep them safe from harm.
【Package contains】1 x Adapter Charger Protective Case,1 x Cable Protector Cover.(Adapter and Cable NOT included).
Cute Bow Protecting Case for Apple iPhone 20W USB-C Adapter Charger Cable, Exclusive Design 3D Protective Charger Cover Cable Protector Sleeve for Family Men Women
Product Size small and convenient to carry in travelling.
Package Included:
✔1 x Charger Adapter Protective Case
✔1 x Cable Protector Cover
✔1 x Cable Tie
✔1 x Spiral Protection Ropes
✔Noted: Charger Adapter and Cable NOT Included
✔✔Full-body design protects your charger adapter and cable against drops, shockproof, bending, smashes, scratches
✔✔Made of superior soft silicone, durable and not easily distorted.
✔✔High precise position and reserve charging hole at the bottom of case, charging without removing the case.
✔✔Easy to install: Only required push your charger adapter into the case; When disassembling, by two index fingers against the side of the charger adapter, and push up from the bottom with your thumb to easily remove!