Description
35W Dual USB C Port Power Adapter
The 35W Dual USB C Port Power Adapter is likely a charging device designed to power electronic devices through USB-C ports. It typically has two USB-C ports, charging two devices simultaneously.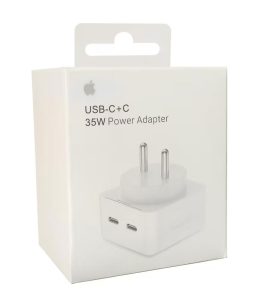 USB-C is a universal charging and data transfer standard that has become increasingly popular due to its ability to provide faster charging and higher power delivery than previous USB versions. It is commonly used for charging smartphones, tablets, laptops, and other portable electronic devices.
The 35W rating indicates the total power output of the adapter, which is shared between the two USB-C ports. The adapter can deliver 35 watts of power to both connected devices. The actual power output to each port might vary depending on the number of devices connected and their power requirements.
Overall, the 35W Dual Port USB-C Compact Power Adapter could be a convenient and efficient way to charge multiple devices with USB-C support simultaneously. However, ensuring that the power adapter is compatible with your specific devices and meets the safety standards required for your region is essential. Always refer to the manufacturer's specifications and guidelines for proper usage and safety precautions.
35W Dual USB C Port Power Adapter Features
Dual Port Design: As the name suggests, it has two USB-C ports, charging two devices simultaneously. This is especially useful when you have multiple devices that need charging simultaneously.
USB-C Compatibility: The adapter is designed to work with devices that support USB-C charging. USB-C is a versatile and widely adopted standard, making the adapter compatible with many modern electronic devices, including smartphones, tablets, laptops, and more.
Fast Charging: The power adapter may support fast charging technologies like Power Delivery (PD) or Quick Charge, enabling rapid charging for compatible devices. Fast charging can significantly reduce charging times and provide more convenience for users.
Compact and Portable: The "compact" designation suggests that the adapter is designed to be small and lightweight, making it easy to carry around for travel or everyday use.
Safety Features: Reputable power adapters will have built-in safety features to protect your devices from overcurrent, overvoltage, and short-circuit situations, reducing the risk of damage to your electronics.
High Wattage Output: The 35W rating indicates that the adapter can deliver a total power output of up to 35 watts to both ports. This power level can efficiently charge smartphones, tablets, and laptops supporting USB-C charging.
Universal Voltage Input: Many modern power adapters support a wide range of input voltages (e.g., 100-240V), allowing you to use them in different countries with varying electrical standards.
LED Indicators: Some adapters may have LED indicators to show the charging status or when the devices are fully charged.
For Other Brand Charger :- Fast Charging Adapter